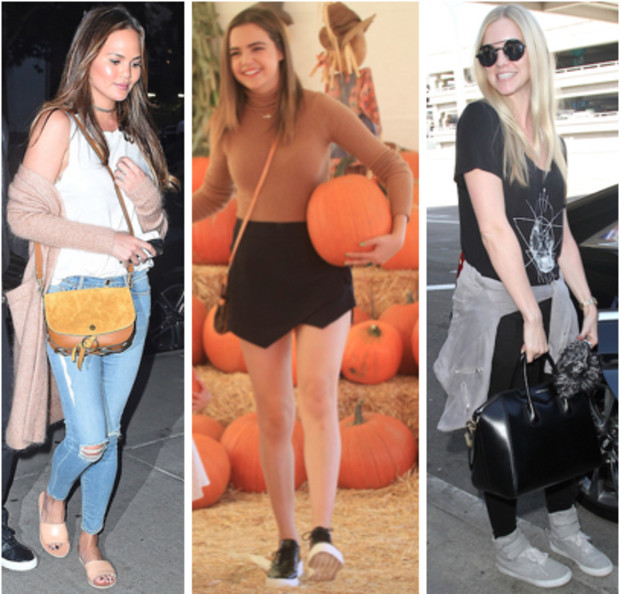 Get Chrissy Teigen's casual cute, Bailee Madison's day-to-night ensemble, and Elle Evans's laid-back cool, all for less.
Every week, I scour the web to find inspiring outfits on your favorite celebs and help you recreate their looks! This week, I was inspired by Chrissy Teigen, Bailee Madison, and Elle Evans. Read on to see how you can get their looks for yourself.
Look 1: Chrissy Teigen's Casual Cute
The ever-chic Chrissy Teigen stepped out for date night in NYC with hubby John Legend in a casual yet cute look.
Chrissy kept her outfit laid-back by wearing a pair of light blue distressed skinny jeans with a simple white tank and a long beige cardigan. Long, open-front duster cardigans are trending this fall, and the cozy texture and neutral hue of Chrissy's makes it perfect for the season. Her dark brown satchel-esque crossbody bag paired perfectly with her cardigan and added another fall fabric to the mix.
Chrissy completed her ensemble with a pair of neutral slide sandals, adding to the relaxed vibe of her look, and accessorized with a trendy chain choker necklace.
Outfit Inspired by Chrissy
Products: Cardigan, Tank Top, Jeans, Choker, Bag, Slide Sandals
Chrissy's outfit is awesome because it's easy to throw on, but looks incredibly put-together. Plus, shades of brown and beige are perfect for fall, as are thick textures like suede and knit. Basically, this is the perfect autumn outfit.
To get this look, mix light wash distressed skinny jeans with a simple white tank top or tee. Then, give them a super cozy spin by adding a long knit beige cardigan over top. (Or wear yours slung off one shoulder, like Chrissy.)
Now for the extras. For a casual vibe, throw on a pair of easygoing yet trendy slide sandals in a neutral hue, or if it's too cold for sandals, try ankle booties or white low-top sneakers. Complete Chrissy's ensemble with a chain choker necklace and a brown suede crossbody bag.
Look 2: Bailee Madison's Day-to-Night Ensemble
Actress Bailee Madison got into the Halloween spirit by picking pumpkins in a fall look that could be worn day or night. Bailee wore a beige turtleneck sweater with a black asymmetrical wrap-front skort. She gave her ensemble a laid-back vibe by adding black thick-soled sneakers, a designer crossbody bag, and a simple necklace.
Bailee's outfit also demonstrates one of the tried and true "rules" of fashion: if you're going to show off some skin on one half of your body (in this instance, the legs), opt for a more covered-up piece on the other half of your body (the turtleneck). It's all about balance and proportions!
Outfit Inspired by Bailee
Products: Skorts, Turtleneck, Necklace, Bag, Sneakers
While Bailee wore her outfit for a day of activities, I also love it for a night out on the town – plus, you could switch out the sneakers for black ankle booties and add tights, if need be.
A black, wrap-front skort will stand out when paired with a camel colored ribbed turtleneck. For a more casual look, wear some black, low-top sneakers with a chunky or platform sole. These sneakers look quite similar to Bailee's, and are cool because their faux leather outsole gives them a sleek appearance.
Pull the ensemble together by carrying an equally sleek crossbody bag, and wear a simple yet cute necklace, like this acrylic monogram necklace, over your turtleneck for eye-catching appeal.
Look 3: Elle Evans's Laid-Back Cool
Model and actress Elle Evans rocked a cool, laid-back look while traveling through LAX airport this past week. Elle's ensemble is ideal for traveling or for a casual day, as it features comfy, practical pieces that also happen to be quite trendy.
Elle wore a black t-shirt with a graphic celestial print over some stretchy black pants, and tied a gray jacket around her waist to match her gray high-top sneakers. She accessorized with a structured black satchel and some fashion-forward round sunglasses with a brow bar.
Outfit Inspired by Elle
Products: T-Shirt, Leggings, Bomber Jacket, Sunglasses, Bag, Sneakers
The black and gray color scheme of Elle's ensemble is super cool, but the pieces themselves are all relaxed so that you will feel comfortable while looking trendy.
Wear some black jeggings or ponte leggings with an oversized black graphic print t-shirt; this one features a celestial print similar to Elle's. The print helps to tie in the gray pieces in the outfit, like this cool satin bomber jacket – its silver hue makes it unique and its satin texture gives it a luxe feel.
Rather than wearing running shoes, opt for some more refined high-top sneakers like these Vans Sk8-Hi sneakers, which make for a perfect dupe of Elle's. Finish the look with a structured black satchel bag and some trendy round brow bar sunglasses.
What do you think?
Which outfit would you be most likely to wear? What other celebs would you like to see featured? Leave a comment and let us know!
Source: #Fashionblogger #fashiontrends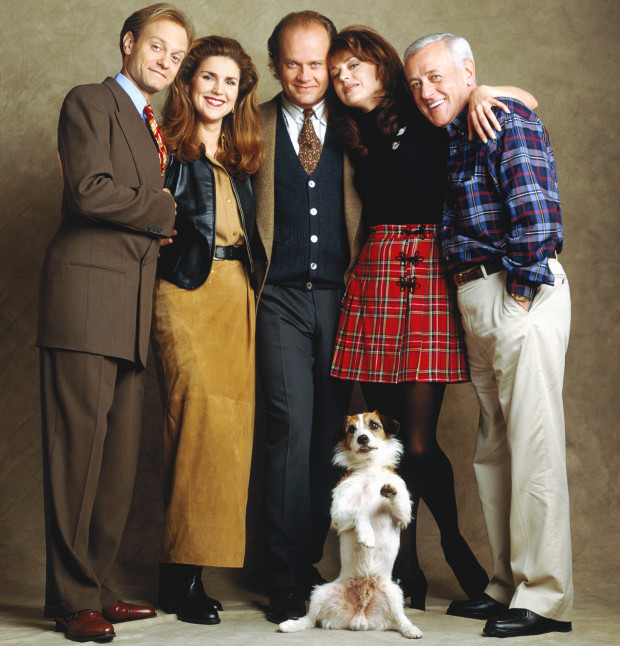 Goodnight, Seattle; hello, CF!
When I wrote my first College Fashion piece on a TV show, the very first bit of feedback I got from a loved one was, "Can you do one for Frasier??". Lo and behold, here it is, no more than three months late! (You're welcome, Adam.)
For those of you who aren't familiar with this highly prized sitcom, the premise of the show is as follows: Dr. Frasier Crane, a psychiatrist with highbrow tastes and his own Seattle-based radio talk show, navigates life's little (and big) challenges. It's a Cheers spin-off, and it's probably the only TV spin-off I know of that's actually rivaled its parent show for accolades and popular appeal.
Having just started binge watching Frasier recently, I can honestly say that I'm OBSESSED with this show. Alongside the sophisticated references scattered throughout its 11 seasons on-air, I've slowly grown to love the zany (and totally '90s) fashion exhibited by each one of its characters. Daphne, of course, is my favorite to shadow, but Roz and Lilith's wardrobes have always fascinated me as well.
For the purposes of this article, I've tried replicating four outfits worn by the fashionable ladies of Frasier — keep scrolling and see for yourself whether these casual looks can still be worn today!
Roz Doyle
Products: Denim Shirt | T-Shirt | Cargo Pants | Shoes | Watch | Belt
Roz Doyle is Frasier's sardonic radio show producer and the yin to his yang (in a totally platonic way, of course).
Where Frasier is a theorist and idealist, Roz is down-to-earth and quick on her feet. Though she and Frasier do have one brief slip-up in the way of romantic entanglements, they don't end up together — instead, the focus is always on their professional and personal relationship. Eventually, she's promoted to the station manager position at KACL, and becomes the OG #girlboss. Way to go, Roz!
To emulate Roz's rugged businesswoman look, strap on some sturdy looking Oxfords and a metallic watch. Pair these with belted cargo pants, a lightweight grey shirt, and a long denim shirt to go over both. (It's chilly at the station!)
Daphne Moon
Products: Layering Tee | Tights | Skirt | Vest | Pins | Earring | Tote Bag
Daphne Moon is the quirky, live-in physical therapist to Frasier's dad, who ends up marrying into the family when she weds Frasier's younger brother Niles.
Unlike the Crane clan, Daphne is spunky and pragmatic. A Manchester native, her English eccentricities are a running joke on Frasier, as is her obliviousness to Niles' obvious infatuation with her. Daphne also claims to be "a bit psychic," which is treated with a varying level of ambiguity throughout the show.
Dressing up like Daphne requires delving back into some '90s trends, like chokers and floral mini skirts paired with black tights. Add on a white long-sleeve tee, a denim vest, and teardrop earrings to make the look more universal — then, stick some girly pins onto an "I'm Psychic" tote bag to look as bizarre and cute as Daphne herself!
Lilith Sternin
Products: Dress | Necklace | Pearl Earring | Bun Maker | Tight | Pump
Lilith Sternin is Frasier's ex wife and the mother of his son, Frederick.
As a highly analytical and cerebral (if somewhat awkwardly direct and cold in social circumstances) psychiatrist based in Boston, Lilith is a guest star on Frasier. Not coincidentally, the few episodes she stars in happen to be some of my favorite in the whole show — Lilith's droll remarks and intellectual compatibility with Frasier make for an interesting viewing.
Apart from that, Lilith boasts a fabulous personal style. (Her regular wardrobe is very Audrey Hepburn meets Katherine Hepburn.) To imitate Lilith's natural elegance, slip on an LBD of your own, accompanied with opaque tights and kitten heels. Slide on a pearl necklace and earrings, and finish the look up with a tan trench coat. Don't forget to pin your hair back into a tight bun for that perfect ice queen vibe!
Bonus: Maris Crane
One of the funniest Frasier gags is the fact that you never once see Niles' wife (later ex wife), Maris. Apparently, the producers had planned to cast her later on, but the none-too-subtle digs about her excessively tiny frame and inhuman qualities made her a subject too large (or, shall we say, too small) to be perfectly cast.
Still, when I do picture Maris, it's either in an ill-fitting ballerina outfit or what she's said to wear in Season 5's "Voyage of the Damned" episode: a long black dress and veil. (Apart from having no personality and too much money, she has "virtually no pigmentation.") To make that into a real-life look, put on some stylish shoes — black, of course — then slide on back out of the spotlight.
Thoughts?
Did you watch a lot of Frasier growing up? Which character was your favorite? What outfit set did you like the most out of the bunch? Who are you most like: Roz, Daphne, Lilith…or Maris? Tell us this, and more, in the comments section below!
Source: #Fashionblogger #fashiontrends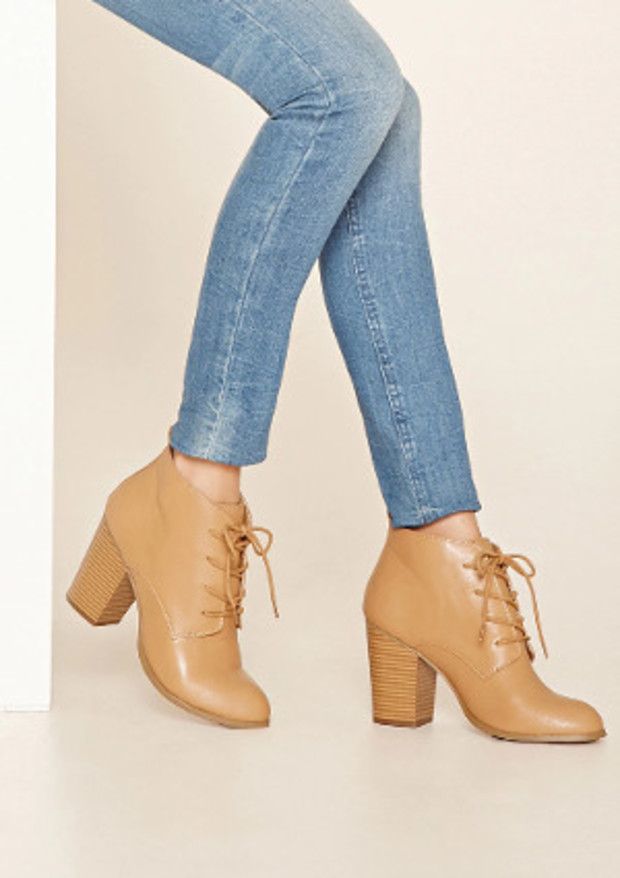 Fall = ankle bootie season.
If you're anything like me, you really don't need another pair of ankle booties in your closet. But, if you haven't yet converted (or are still building your collection), be sure to check out this week's Fabulous Find!
These adorable booties from Forever 21 are a steal at under $30, and they're so versatile that you'll be able to wear them year round.
The Booties
Faux Leather Lace-Up Booties – $27.90 at Forever 21
Outfit Inspiration
Wear these booties with all your favorite fall looks! Here are a few ideas to get you started.
Outfit #1
Products: Booties, Dress, Scarf, Bag, Watch
Want to carry your summery, boho style into fall? This is the way to do it. Pair a feminine dress with lace details with these lace-up booties, then throw on a classic plaid scarf for warmth. Add a tasseled suede bag for another trendy touch, but don't forget to balance it out with a simple watch as well.
Outfit #2
Products: Booties, Skirt, Sweater, Lipstick, Nail Polish
Maxi skirt season isn't over yet! Make yours work for fall by styling it with a drapey sweater and lace-up booties. For a pretty and polished look, put on some pink lipstick and sage-green nail polish, too.
Outfit #3
Products: Booties, Pants, Shirt, Hat, Earrings
Need a cute but casual look for your next football-watching party? Pair tomboyish pieces, like a plaid shirt and skinny cargo pants, for a laid-back vibe. Lace-up booties, a stylish baseball cap, and stud earrings will still show off your stylish side, however.
Thoughts?
Would you wear these booties? Or is your closet already maxed out? Let us know in the comments!
Source: #Fashionblogger #fashiontrends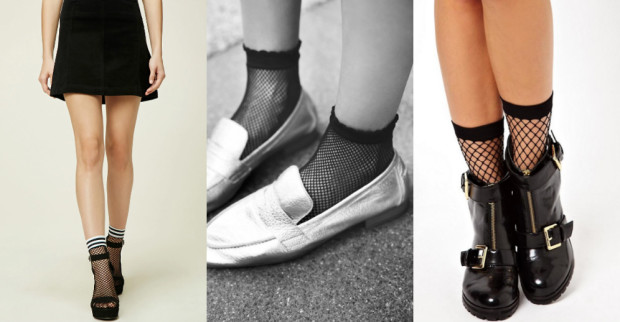 Time to step up your sock game!
Fishnets have traditionally been associated with – and pretty much reserved for -punk/grunge styles. Now, however, people with a variety of fashion tastes are opting to wear fishnet socks to add some edginess to their look – and we certainly aren't complaining!
These are more simple to style than they look! Wear them with the shoes you already have in your closet. Basically, they work with anything that you'd wear with tights or socks. Voila! – instant cuteness.
Fishnet socks – yea or nay?
Would you ever wear them or are they not for you? If you vote yet, how would you style this look? Comment below and let us know what you think!
Source: #Fashionblogger #fashiontrends

Refinery29's WEAR page has major #SweaterWeather inspo.
Are you feeling the mid-semester outfit slump? Already bored of your new fall clothes? We know the feeling – and we've got your solution. Refinery29's landing page for street-style app WEAR on Refinery29.com is your go-to source for fashion inspo this fall.
The page is fantastic because it allows you to click on any look and find the exact source of each item. Additionally, all the looks are real life-wearable – no over-the-top editorial looks here.
While there are tons of hot trends on the page, we're particularly loving the #R29SweaterWeather section. Here are six knitwear styling tips we picked up there:
1. Play with proportion.
As WEAR user Prettylittlefawn demonstrates, a super-slouchy sweater looks fab with fitted skinnies and a big hat. These three pieces, though simple, look crazy luxe when combined.
2. Belt it.
Give shape to a baggy, oversized cardigan by cinching it in at the waist. Here, Sheerstomping uses her cardi's built-in tie, but any belt will work. (Bonus points for double sweater layering!)
3. Add edge with monochrome styling.
Knitwear usually leans more toward "cozy-cute" than edgy, but this look proves it's all down to the styling. Rock head-to-toe black for a badass take on your fave fall sweater. (Leather gloves optional.)
4. Try a sweater coat.
Why limit yourself to traditional knitwear shapes? A coat-shaped sweater like Styleinfurno's is cool and unexpected. You're sure to stand out on campus.
5. Short sweater dress + long jacket = win.
This look is the perfect mix of sultry and cool. It's super simple, too: Pick up a knit minidress, then add a long coat and boots. Done.
6. Rock a textured pullover and shorts.
Embrace what's left of fall's warm weather by mixing your favorite summer cutoffs with a lightweight knit like Shaunajacobs does. Perfection!
Get more outfit inspo at Refinery29!
For more info on any of these looks (including where to buy the pieces) and to see more outfit ideas, visit Refinery29's landing page for street-style app WEAR on Refinery29.com.
Disclosure: This post was sponsored by Refinery29. The opinions, as always, are our own. For more information, please see our Disclosure page.
Source: #Fashionblogger #fashiontrends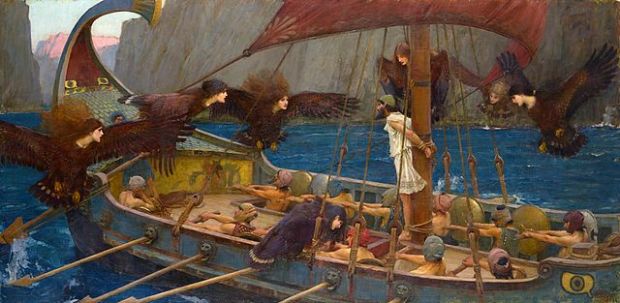 Fierce outfits inspired by the fearsome monsters of Greek mythology.
Hello and welcome back to Greek Myth Fashion, your fortnightly dose of Greek mythology-inspired style. After drawing fashion inspiration from gods, goddesses, muses, and heroes, it's time to see how mythical creatures can influence our outfit choices.
In this article, I will show you three outfits inspired by three monsters from Greek mythology: the hydra, the cyclops, and the siren.
The Hydra
The Lernaean Hydra (or Hydra of Lerna) was a serpent-like water monster with multiple heads. When one head was cut, several would regrow, and its breath and blood were poisonous. The Hydra was eventually killed by Heracles as part of his Twelve Labors.
Products: Bodysuit, Skirt, Choker, Boots, Bracelets, Tights, Bag
This Hydra-inspired outfit is a combination between dark tones and golden accents. Pair a black bodysuit with a dark green lace skirt, then add a pair of black Chelsea boots, some tights, and a green crossbody bag. As a nod to the serpentine qualities of the Hydra, accessorize with a snake chain choker and a set of bracelets with a scaly texture.
The Cyclops
The Cyclops was part of a primordial race of giants, its defining characteristic being a single eye in the middle of the forehead. Greek authors described Cyclopses as builders and craftsmen, and the poet Callimachus wrote about them being Hephaestus' helpers at the forge.
Products: Top, Pants, Poncho, Bracelet, Boots
For the next time you need to craft an essay, here's a suggestion for an effortlessly stylish outfit. Combine an eye print sweater top with a pair of dark blue pants, and suede boots. Layer a tasseled poncho over top, add a bangle bracelet, and now you're ready for a productive day in the library.
The Siren
The Siren (not to be confused with a mermaid) was a creature that lured sailors with its enchanting voice and caused them to wreck their ships or drown. In early Greek art, the sirens were represented as a hybrid between women and birds.
Products: Top, Pants, Blazer, Booties, Earrings
For an outfit inspired by the Siren, you don't need actual feathers, because a ruffled blouse will suffice. Wear it with a pair of corduroy pants and ankle booties, and add a blue blazer as a tribute to all the sailors who met their end because of the Sirens. Accessorize with drop earrings for an elegant finish.
What do you think?
Which creature from Greek mythology is your favorite? Would you wear any of these outfits? What would you like to see next? Let us know in the comments below!
Source: #Fashionblogger #fashiontrends
Get your shop on this weekend with these fab deals!
Ann Taylor will give you 50% off almost everything from now through 10/25 at 3am EST. Use code OCTOBER50.
Benefit is offering 3 free fun-size minis of Benefit faves with any order and code FAVORITES. Or, if you spend $55+ and use the same code, get free deluxe samples of goof proof brow pencil (shade 03 medium), they're real! mascara, and the POREfessional.
Bloomingdales will give you 20% off $100-249.99, 25% off $250-499.99 or 30% off $500+ on a ton of styles: Use code SCORE through 10/23.
Boohoo is offering 50% off new styles from now through 10/21 at 6pm EST with code NEW50. Or get 60% off dresses from 10/21 at 6pm EST until 10/22 at 3AM EST with code 60DRESS. Sale items are excluded from all promotions.
Charlotte Russe is offering 10% off orders of $50+ with code CRFALL10 through 10/30. Or, get an additional 20% off orders of $90+ with code CRFALL20 through 10/30.
Chinese Laundry will give you an additional 30% off all Clearance items with code EXTRA30 through 10/26.
Club Monaco added more styles to their sale section, with tons of cute stuff marked down!
Dorothy Perkins is having a mid-season sale with up to 50% off tons of items. Shop now for the best selection!
Express is offering $10 off $50, $25 off $100, and $75 off $250 with code 1756 in store and online through 10/23.
Gap has an offer good for today, 10/21 only: They're offering 40% off your purchase until noon PT, or 35% off your purchase from noon-midnight. Use code RIGHTNOW.
J.Crew is offering 25% off closet must-haves plus an extra 30% off sale items through 10/22.
J.Crew Factory is offering 40-60% off fall styles plus an extra 10% off with your J.Crew credit card and code FALLCARD, all through 10/23.
LOFT will give you 40% off all full price styles plus an extra 60% off all sale styles through 10/23 at 4:59pm EST. No code is required.
Macy's has 30-40% off select handbags from now through tomorrow, 10/22.
Madewell will give you up to an extra 40% off sale items. Use code EXTRASALE through 10/24.
Nine West is offering 30% off everything from now through 10/25 plus free shipping!
Sperry is offering an extra 30% off sale items with code SALEFISH through 10/28.
Target has men's and women's sweaters for BOGO 50% off through 10/22. Also, get up to 25% off bedding, bath, rugs, throw blankets and throw pillows through 10/22.
TOMS is offering 15% off in their Friends and Family event with code TOMSFAM through 10/21.
Tory Burch is offering up to 70% off select items in their Private Sale section.
Source: #Fashionblogger #fashiontrends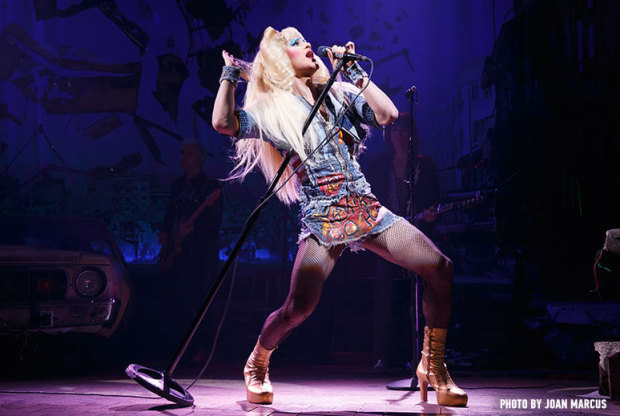 Fashion from the internationally ignored rock band.
From the costumes to the set, from the words of the script to the movements of the actors, everything on stage tells a story. Stage-Inspired Fashion adds a little drama to everyday style.
The national tour of Hedwig and the Angry Inch, starring Darren Criss and Lena Hall, just started in San Francisco! In celebration of this fantastic show, let's get into some over-the-top fashion inspiration.
Behind the Scenes
Hedwig and the Angry Inch is presented as a concert played by genderqueer rocker Hedwig (usually played by a man), her husband/backup singer Yitzhak (usually played by a woman), and her band the Angry Inch. Through John Cameron Mitchell's book and Stephen Trask's music, Hedwig tells the audience her life story.
Formerly known as Hansel, Hedwig was forced to have a sex-change operation in order to marry an American man and escape from East Berlin. However, the operation went awry and left her with an "angry inch," and although she made it to America, her husband left her for a man. She later became the girlfriend and musical mentor of shy teenager Tommy, but after finding out about her past, Tommy left her as well. He stole the songs she wrote and became a much more successful rockstar.
At the concert, Hedwig finds out that Tommy is playing next door. She becomes more and more angry and upset as the evening progresses, and has a breakdown onstage in an incredible, powerful moment of theatre.
The costumes in Hedwig can be described as rockstar glam at its finest. Read on to learn how to nail that vibe in your own look:
Hedwig
So when you've got no other choice,
You know you can follow my voice
Through the dark turns and noise
Of this wicked little town.
Products: Romper, Jacket, Patch, Fishnets, Boots, Eyeshadow, Blush
To get Hedwig's glam-rocker style, put on a satin romper, fishnets, and glittery gold boots. Rather than replicate her wildly decorated denim, customize your own denim jacket with pins and patches that are important to you. Finish the look with Hedwig's iconic makeup: bright blue eyeshadow and bold pink blush.
Yitzhak
The love that had me in your grip
Was just a long, long grift.
Products: Shirt, Sweatshirt, Jacket, Jeans, Boots, Gloves
Hedwig forbids Yitzhak from doing drag while they're together, so Yitzhak's look for most of the show is very masculine. For a Yitzhak-inspired outfit, layer a leather jacket over a black hoodie and a white button-down shirt. Add loose boyfriend jeans, chunky combat boots, and fingerless gloves.
Transformations
And you're shining like the brightest stars,
A transmission on the midnight radio.
Products: Shirt, Shorts, Jacket, Boots, Eyeliner
By the end of the show, Hedwig and Yitzhak look like completely different people. Hedwig has taken off her flashy costume and stands onstage in a pair of black leather shorts; Yitzhak, returning to drag at last, puts on an even flashier costume. Combine their respective finale looks with a black tank top, Hedwig's leather shorts and silver makeup, and Yitzhak's over-the-knee boots and outrageous sequins.
Epilogue
Ultimately, Hedwig's story is one of acceptance, forgiveness, and healing. Hedwig, Yitzhak, and their audience find their way there together through the power of their music. The fabulous costumes? Well, they're just the icing on the cake.
Your Thoughts?
Have you seen Hedwig and the Angry Inch? Who's your favorite Hedwig? Are there any plays or musicals you would love to see covered in this column? Let us know what you think in the comments below!
Source: #Fashionblogger #fashiontrends

We've got the best fall lipsticks, scary movie recs, Halloween cookie recipes and more!
BREAKING NEWS: Victoria Beckham is going to collaborate with Target!!!
Very cool: John and Hank Green just launched a new video production company called Complexly. The site looks great so far!
The best lipsticks for the fall season, via Refinery29.
Also from Refinery, Harry Potter makeup brushes are coming out soon! So cool.
Kylie's new fall Lip Kits are out. Here's what you need to know.
Lauren Conrad shares Five Things You Should Never Compromise On in a Relationship (And Five You Should).
18 Fall Essentials for the Girl Obsessed with Halloween, via Popsugar.
For those who work in the afternoons or bring lunch for the day, 62 ways to upgrade your desk lunch.
This mermaid makeup tutorial is Halloween perfection.
Zayn Malik is teaming up with Donatella Versace… and we can't wait to see the results!
Get excited for Halloween movie marathons on TV!
Related: GQ lists the best scary movies on Netflix right now.
And ELLE rounds up the movies to see going into awards season.
Emma Watson's Two Minute Film on Gender Equality is a must-see.
What to Eat When There's No Time to Cook, According to a Kardashian Nutritionist. Oh, to have our own nutritionists…
Four editors style the same dress in four different ways.
Interesting: Why millennial women are obsessed with stationery. I have to admit this is true for me – what about you?
Love these easy Halloween cookie recipes.
Or if you want to go more wholesome, these granola bars look yummy!
Getting so excited for "A Year in the Life": The New "Gilmore Girls" Posters Show Us Every Season In Stars Hollow.
6 questions to ask before applying to grad school, via The Everygirl.
Also from The Everygirl, the 10 page-turners you should be reading this fall.
We are loving Emma Stone's new pixie cut!
Woah: Bran Castle, the inspiration for Dracula's lair, has just been listed on Airbnb.
Aww, adore: Some great tumblr posts in case you needed a reminder that female friendships are amazing.
How to accept constructive criticism gracefully, via HelloGiggles.
10 Awesome Halloween Costume Ideas Under $30 from WhoWhatWear.
Very cool: Instagram's new feature allows you to help friends with mental health issues.
This studying trend will either inspire you or stress you out.
Also from Buzzfeed, a few laundry hacks that actually work.
Guys finally have their own beauty site, via Allure.
WhoWhatWear has rounded up cute sweaters for the fall, all under $100.
Aww: Kitten rescued from Hurricane Matthew and given sock sweater.
Source: #Fashionblogger #fashiontrends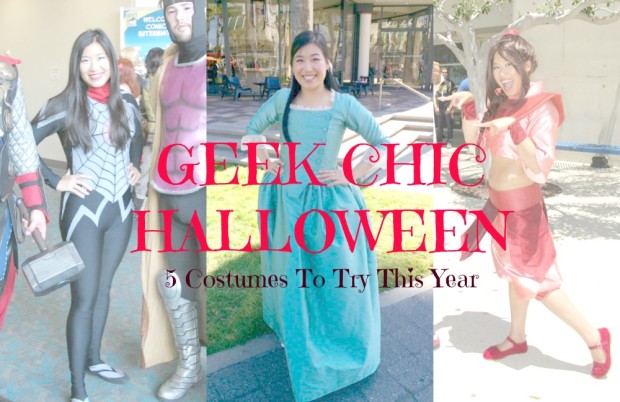 Who doesn't love a good pop culture costume?
Halloween is definitely my favorite holiday of the year. I'm not big on spooks and scares, but I do love wearing costumes! While I go all out for my cosplays, I'm not as willing to spend time and money on my Halloween costumes: it's more about having fun!
With that in mind, most of these geeky Halloween costume ideas can be put together with pieces from your closet. (If not, try borrowing from a friend!)
Love pop culture? Want to stand out in a crowd of black cats and princesses? (Not that those aren't totally fun costumes!) Try out one of these easy, geeky costumes inspired by some of the biggest pop culture hits of the last couple years.
Eleven from Stranger Things
Products: Dress, Jacket, Socks, Collar, Shoes, Wig, Blood, Eggos
I know, I know, everyone and their mother is gonna be Eleven from Stranger Things this year. But I still felt like this list would be incomplete without everyone's favorite telekinetic, Eggo-loving, Demogorgon-busting badass.
To start your Stranger Things Eleven costume, you'll need a pink dress and a blue jacket. If you want to get closer to her look, you can always add a detachable collar to any pink dress. Then, you just need tube socks, sneakers, and a dab of fake blood under your nose! Pick up a box of Eggos as a fun prop (but do pay for them). Blonde wig and/or shaved head are optional.
Barb from Stranger Things
Products: Top, Jeans, Boots, Wig, Binder, Glasses, Watch
If you want to pay homage to Stranger Things but don't want to go as Eleven, try dressing up as Barb! (Poor Barb. She deserved better.)
Venture into the Upside-Down in your Barb costume with a ruffled plaid top and high waisted jeans. Next, add a short red wig and accessorize with retro glasses and a binder. And for the love of God, stay away from swimming pools.
Pokemon Go Trainer
Products: Jacket, Romper, Leggings, Sneakers, Backpack, Gloves, Hat
Not that big on Stranger Things? Pay tribute to another of the biggest hits of the summer: Pokemon Go!
For a Pokemon Go trainer costume, pair a romper with a cropped hoodie (you can buy exact replicas of the Pokemon Go hoodies on Etsy) and layer it over leggings. Next, add a pair of fingerless gloves, some sneakers, and a trainer hat. Go forth and catch 'em all!
Jessica Jones
Products: Jacket, Tank (similar), Scarf, Jeans, Boots, Bag
I haven't had the chance to watch Luke Cage yet (I have an exam coming up and I know that if I start, I'll have to binge watch the whole season), but I loved last year's Jessica Jones! Luckily, a Jessica Jones costume is super easy to put together!
A leather jacket, distressed jeans, and moto boots are all you really need to capture Jessica Jones's style, but a healthy dose of eyeliner and a paper bag (to hold your beverage of choice) will really pull this Halloween costume together.
Alexander Hamilton
Products: Coat, Shirt, Vest, Jeans, Belt, Boots, Buttons
Are you young, scrappy, and hungry? Make sure this founding father's story gets told by dressing up as Hamilton from the hit musical!
For your Alexander Hamilton costume, start with a ruffled white blouse, waistcoat, and jeans, and accessorize with a belt and riding boots. This costume will require a bit of DIY: sew gold buttons to a blue coat to mimic the look of Hamilton's uniform. (Even if you can't find a coat, the rest of the outfit is pretty much what the ensemble members wear!) Do not throw away your shot!
Last but not least, here's one more idea: wear a normal Han Solo outfit, but add a halo and angel wings. (Too soon?!)
What did you think?
Would you wear these costumes? Do you have a pop culture costume in mind? Let us know in the comments!
Source: #Fashionblogger #fashiontrends