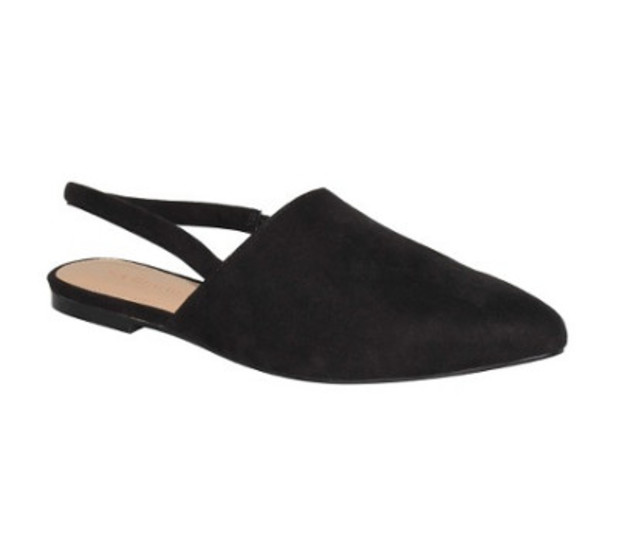 These shoes add a trendy touch to any outfit.
Trends come and go, so I usually avoid spending much on them. If you want to try a trendy piece without buyer's remorse, the key is to find a budget-friendly version in a fast fashion store.
This week's Fabulous Find is a great example: a pair of pointed-toe, slingback flats from the Who What Wear collection at Target. These flats (also known as slipper mules) are very trendy at the moment, but at less than $30, you won't be breaking the bank to give them a try.
The Shoes
Kat Microsuede Slingback Flats – $29.99 at Target
Outfit Inspiration
Though trendy, these flats are surprisingly versatile! Here are a few ways to wear them:
Outfit #1
Products: Flats, Sweater, Jeans, Bag, Earrings
It can be tricky to look chic and be comfortable at the same time, but this outfit achieves the perfect balance. Dress down these slip-on flats with some ripped boyfriend jeans, and add a cozy striped sweater on top. To make the ensemble polished enough for a coffee date or other weekend outing, add a pair of statement earrings and a cute crossbody bag.
Outfit #2
Products: Flats, Shirt, Pants, Coat, Lipstick
Do you work in an office environment? If so, switch up your usual work unifom with something a bit more trendy and stylish. These black flats pair perfectly with a pair of plaid trousers and a blue oxford button-down shirt. If there's a chill in the air, throw on a sleek navy coat as well. Use a pretty pink lipstick to add a little feminine touch to the final look.
Outfit #3
Products: Flats, Jumpsuit, Necklace, Bag
Want to stand out from the crowd at your next holiday party? Try this nontraditional yet chic and sophisticated look. Instead of the typical sequin dress, try a bright red jumpsuit with a tie waist. Give your feet a break from heels and wear these trendy flats instead. When accessorizing, balance out the look with classic pieces like a gold clutch and chunky statement necklace.
Share your thoughts!
Are you a fan of the mule trend? Would you wear these flats? How would you style them? Let us know in the comments!
Source: #Fashionblogger #fashiontrends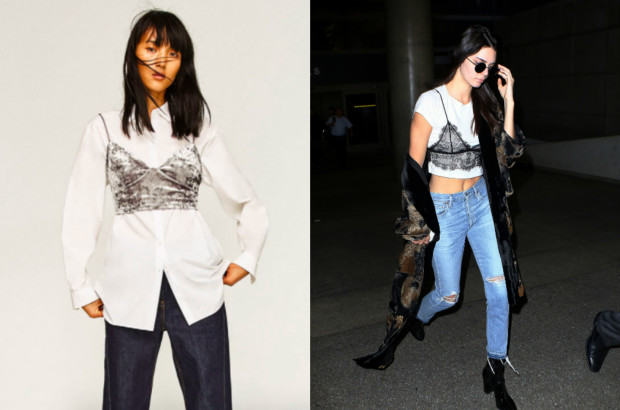 No guys, we're serious.
Many weeks ago, Kendall Jenner stepped out in a bra over her top. At first we were confused by this rapidly-blossoming trend. Does this mean we have to wear two bras – one under our shirt and one over? Doesn't it just look like you got dressed while half-asleep in the dark?
The reaction in the fashion world was nearly immediate. It seemed like in every store we walked into, a mannequin was rocking a bustier or bralette over shirts of every variety: crop tops, oxford button-ups, and everyday tees. We're not sure how long this look will last, but one thing's for sure: It's probably gonna be everywhere soon.
We really want your opinion on this one!
Hit or miss? What's up with this style? Would you wear it? Comment below and let us know STAT.
Source: #Fashionblogger #fashiontrends

Didn't have the best four years ever? That's ok.
How many times have you heard that college is the best four years of your life? A lot, most likely. From grandparents to parents to peers, it seems like everybody had a blast except for you. No worries. You're not alone.
Whether you have one or all three common college regrets, here are some future plans to help you move upward and onward from college.
1. Academic Regrets
Perhaps you regret not studying harder. Maybe you regret not getting a good enough GPA to hit the cutoff point for recruitment or grad school. Maybe you regret not mastering and truly learning the material. Maybe you feel like your poor grades are a sign that you haven't successfully conquered time management and you're afraid that will bleed over into your professional career. Or maybe you did have good grades but you procrastinated through the Dark Playground to get them so they don't feel like real successes.
Does this sound like you? Here are some tips to help remedy the situation:
Future Mindset + Action
Even premed students get poor grades but that hasn't held them back from getting into med school.
Take post-bacc classes if you would like to boost your grade.
Remove your GPA from your resume. Many companies don't care about it – if they do, they'll ask for it.
Look for amazing, smaller companies that won't have a GPA cutoff point (bigger companies are also starting to do away with the requirement).
Look for volunteering opportunities – even unorthodox ones. Try offering companies your skills and services. It'll give you brownie points if you can prove your initiative.
Take a No Procrastination Challenge.
Set up and start regularly using a schedule.
Create a chain of how many days you turn in your work on time.
Take a Massive Open Online Course for fun and really focus on learning the material for learning's sake and not for your grades. Bonus point if you get a certification. Add it to your resume.
Read a nonfiction book that you've been meaning to read.
2. Social Regret
Not everybody is a social butterfly in college. Certain circumstances can aggravate feelings of loneliness, like being a transfer or commuter. Whether you didn't join any extracurricular clubs or just didn't make any close friends, college isn't the only place to make friends and be social.
Relationships also drift apart post-college and people move. While college can be a great place to make lifelong friends, it isn't the end-all be-all.
Future Mindset + Action
Check out Meetup events.
Stake out a few cool local shops/venues and check out their bulletin boards. Join their social media pages and maybe organize a hang out before/after the event.
Some companies have "work" clubs and intramural leagues. Ask around if your company has anything like that.
Read this handy dandy College Fashion guide about keeping, making, and leaving friends after graduation.
"Maybe you're in a new city with unknown conveyer belts; maybe your old friends are heinous jackanapes you have no idea why you just hung out with for the last decade. Either way, you have to think of making friends at this age in this world with this head as a different game." – Tracy Moore
Take classes in your city and take advantage of Groupon and discount sites.
Try out things you wouldn't think you'd enjoy or that you wrote off as "basic" (like painting and wine classes).
Hold dinner parties and casual get-togethers.
"When you have more self-knowledge, the quality of the friendships you make (or renew) later in life can be richer than the happenstance ones from your school years, even if these friendships do take more effort to cultivate. And like the best relationships, they can also continue deepening over time." – Melanie Pinola
Focus on trying to enjoy the activity and the people you're around. Every day is a fresh start.
3. Career Regret
This is a huge regret for graduates that normally ends with having no idea what you're doing. You didn't plan for your future career well enough, you changed your mind too late, you're starting to have doubts, you feel like you didn't do enough or you're not capable, you can't find a job, etc.
First, listen to me: It's going to be alright. You're smart and there are so many available resources out there to help you out. Here are some more tips:
Future Mindset + Action
The Blissful Mind has a terrific guide on how to get a job after graduation.
If you're not digging traditional jobs, perhaps think about going down the entrepreneurial path.
Google "school name college major job title LinkedIn." Connect with alumni with your desired job path and ask to set up an informational interview.
Start looking at industry blogs and news sites for the sector you want to break into.
If you're not sure what you want to do, look at influencers. There are people in every industry on social media sharing their unique jobs.
Look at companies. Sometimes working for a wonderful company is better than having a specific job title.
There are so many career quizzes out there: MBTI, Holland quiz, MyNextMove, etc. Give them a whirl.
If you don't feel like you can do the job you want/have, read this piece on Imposter Syndrome.
A cliche quote if you feel like you ran out of time to pursue a passion: "Never give up on a dream just because of the time it will take to accomplish it. The time will pass anyway." – Earl Nightingale
Feel like you don't have a passion/calling? Or you're frustrated searching for it? That's okay. Here's a TED talk to help.
No Regrets
Positivity isn't about being happy all the time, despite popular myth. It's about looking at your regrets and learning from them. Taking those lessons and creating a success spiral.
Don't think about your regrets as "should have dones." Hindsight is 20/20. It's easy to connect the dots looking back. Every past regret holds something that you value now. Blaming your past self for not valuing something at the time is a fruitless endeavor. Now you know exactly what you value. That is great. There's a certain confidence that comes with that knowledge. You know the "what" now, so the "how" can be flexible.
"Challenge yourself to do new things and do your best to accomplish them. This will help keep your confidence up. Don't surround yourself in a negative environment with negative people. And your confidence will become more solid. I can tell you from my experience that confidence can sometimes quickly disappear. Especially in the face of a stagnant life or constant failure." – Anonymous Reddit User
What do you think?
Do you regret anything from college? Is it one of the three regrets? Post-grads, what would you like to add to the future mindset + action lists or tell current students?
Source: #Fashionblogger #fashiontrends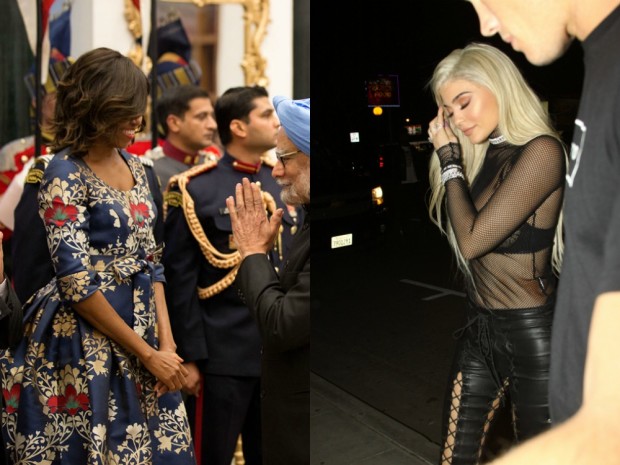 The fierce First Lady meets the sexy star in a holiday themed Weekly Crossover.
We've got another unlikely matchup for our next Weekly Crossover: Michelle Obama and Kylie Jenner. Again, these two well-known figures could not be more different, style-wise… so how will they mash up? We're about to find out!
With the holidays coming up, I thought it would be fun to make this week's crossover a little festive. Therefore, the outfits below are perfect for any holiday events you may have planned.
Inspirational Set 1:
Michelle and Kylie are both wearing two completely different outfits here, reflective of their respective styles. Michelle's floral and feminine dress is her take on holiday chic, while Kylie rocked this dark grunge set for her sister Kendall's birthday party. Let's see how they mash up!
Holiday Soiree
Products: Bag, Tights, Bracelets, Dress, Shoes
This outfit is an easy go-to look for fancy and fun holiday parties. The red dress, black heels, and golden accents are incredibly festive.
Michelle's short dress and (not pictured) pumps inspired the colors and style of this look. Kylie contributed to the dark tights and heels, as well as the lace on the dress and its bare shoulders. This dress is so unique – it's sure to turn heads. Be sure to spice up the outfit with some lipstick and fancy hair.
Winter Date
Products: Shoes, Necklace, Bag, Watch, Romper
Rompers are so popular in the summer, but they can also be great in the winter as well! This one-piece, with its sheer arms, was inspired by Kylie's outfit, while the patterns on the top are reminiscent of Michelle's dress. You will feel like a show stopper in this romper.
We have to accessorize, of course! The heels and watch are classic touches for a holiday look. The choker is both Kylie- and Michelle- inspired. Michelle has a bow on her dress and Kylie is wearing a choker in her outfit. Your hair can be worn down, but I think this would look fab with a ponytail!
Inspirational Set 2:
Outerwear is non-negotiable in winter, so you may as well you use it to make a fashion statement. Here, both ladies are wearing signature coat styles: Michelle is rocking a coat dress and Kylie has a vibrant colored overcoat. You might as well invest in a nice coat – you'll wear it daily for the next few months!
Friends Night Out
Products: Shirt, Headband, Boots, Scarf, Skirt
This is my favorite overall look in this post. (My favorite piece is the romper from look 2.) This outfit incorporates everything I love at once: a casual t-shirt, a sweet scarf, a girly skirt, long lace-up boots, and a feminine headband. Perfection!
The shirt and scarf are inspired by Kylie's casual look, while the shape of the skirt and feminine feel of the ensemble are inspired by Michelle. This is a super cute look, and I love it for a girls night out – your friends are sure to love it, too!
Getting a Tree with the Family
Products: Bag, Boots, Coat, Hat, Gloves
In my family, it's tradition to go out as a family and purchase a tree. We always get a live one, though fake trees are awesome, too. The process of going and picking out a tree is always something special in my family. You have to wear something warm and comfortable, though, because you will be outside!
This look is perfect for tree-selecting. The long coat is inspired by both Michelle and Kylie. The pop of color comes from Kylie's pop of green in her coat. Again, her overall casual look inspired the beanie. I chose flat boots as opposed to heels, because comfort is key – these lace-up combat boots are very Kylie. The gloves were inspired by Michelle's classic look. Make sure you have a nice, warm pair of gloves and a hat; you'll be wearing them all winter.
That's it for now!
What holiday/winter look was your favorite? Do you think these two mashed up well? Let us know in the comments below!
Source: #Fashionblogger #fashiontrends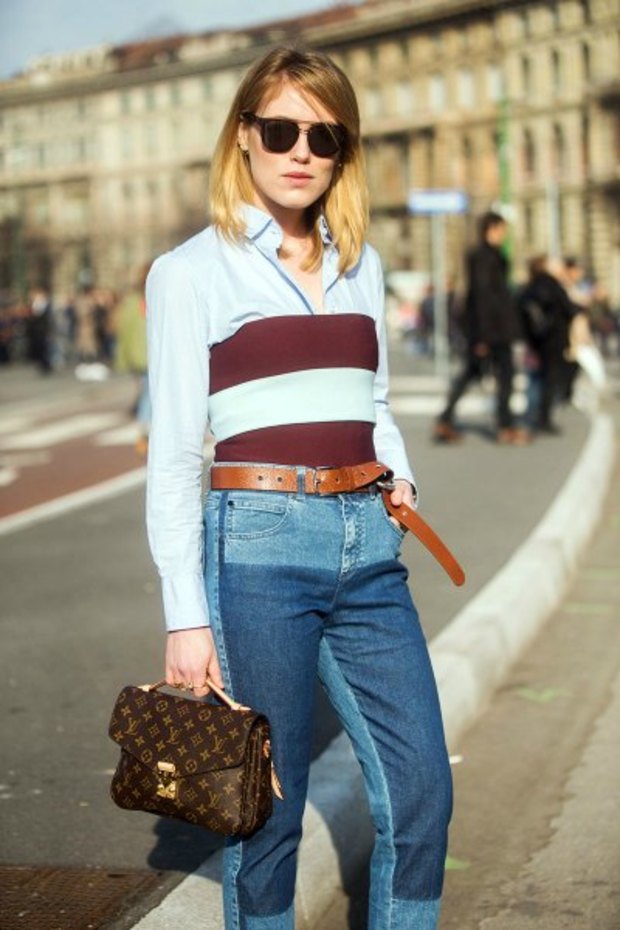 Two tops are better than one!
Crop tops have been one of the biggest trends of recent years, and you probably have several sitting in your closet, waiting for warmer weather. But they don't have to sit idle till May. Take a cue from celebs and street style stars alike and pop your crop tops, bustiers, and bralettes over more substantial tops.
From rocking a shell-like crop top over a button-up like a vest to throwing a delicate bralette over a tee, the possibilities are endless. I've styled three fab outfits with crop tops over shirts below to give you some ideas.
Outfit #1
Products: Crop top, Shirt, Jeans, Booties, Bag, Necklace.
I love this bold look, which proves a patterned, off-the-shoulder crop top is way more versatile than it seems. Rock this outfit to brunch, a daytime date, or even class. I could totally see Carrie Bradshaw wearing this outfit!
A white button-down is the go-to option for layering under crop tops. The structure and classic polish create cool contrast with the sexy, trendy outer layer. Pair with BF jeans and booties and you're ready to go, but the look is even better with glam touches like pearls and a bold bag.
Outfit #2
Products: Crop top, Tee, Jeans, Booties, Earrings.
For an edgier, more relaxed vibe, throw a strapless or spaghetti-strap top over a classic white tee. Leave the tee untucked and pair with skinnies.
For day, booties and one great piece of jewelry, like these big earrings, are all you need (a big cuff or cool pendant could take their place nicely, too). For night, add heels and a chain strap bag.
Outfit #3
Products: Crop top, Blouse, Skirt, Booties, Bag, Earrings.
This look is preppy with an edge. I love the contrast of this lacy, cropped shell with rock-and-roll black booties and black-and-white stripes. And while this look would work with a button down underneath, the bow tie of the blouse adds an extra layer of interest, not to mention a Blair-Waldorf-esque vibe.
You could technically make this look with any sleeveless top layered over a long-sleeve blouse, but a boxy crop top prevents the layering from looking lumpy. An A-line skirt is so pretty with this look, and, like the crop top, defines your waist. Add fun accessories like a contrasting bag and quirky studs.
What do you think?
Have you tried layering a crop top over a shirt? Are you inspired to by this post? Which look is your fave? Let me know in the comments!
Source: #Fashionblogger #fashiontrends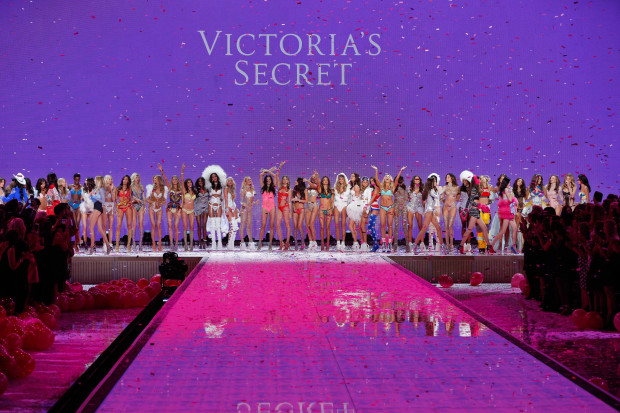 Get ready for this Monday's show by recreating the looks from last year!
It's the most wonderful time of the year! No, not Christmas. Well, that too. But, this weekend marks this years annual Victoria's Secret Fashion Show!
With huge names like Kendall Jenner, Gigi Hadid, and Bella Hadid walking this year, it's set to be another great show. While the 2016 looks have leaked online, I'm a purist and prefer to watch it all unfold on TV. (The show will air on Monday, 12/5 at 9PM Eastern on CBS.)
Sadly, no matter how pretty this year's looks are, I'm afraid in the real world you'll still have to wear clothes over them. So, let's take some inspiration from last year's show and find some outfits worth wearing in real life.
Look #1: Kendall Jenner
Last year was the first time Kendall Jenner walked the VSFS runway, and she's returning again this year. Her look in the 2015 show seriously reminded me of this music video from my childhood, so I went with a wintery/ice feeling to recreate it. White jeans, a cozy sweater, and lots of ice (meaning jewels… I'm sorry, not my best joke).
Products: Sweater, Boots, Bag, Jeans, Necklace
Look #2: Jasmine Tookes
This is Jasmine's 5th year at the VSFS, and she'll also be wearing the coveted fantasy bra at this year's show. Last year, her ensemble was all warm colors, floaty fabric and tassels, making it a perfect spring break look!
Products: Dress, Kimono, Shoes, Bag, Choker, Earrings
Look #3: Taylor Hill
At only 20 years old, Taylor Hill is one of the youngest Victoria's Secret models. She's also the same age as me, which scares me a little.
She's also returning for this year's show, and her look at last year's was quite something. As lace-up black leather pants might be a bit much for campus, try a pair of trendy lace-up jeans instead. Get the same vibe with a leather jacket, plenty of jewelry, and a fringed clutch.
Products: Jeans, Jacket, Rings, Bag, Shoes, Necklaces, Top
What do you think?
Did you watch last year's show? Do you like these looks? Which is your favorite? Let me know in the comments!
Source: #Fashionblogger #fashiontrends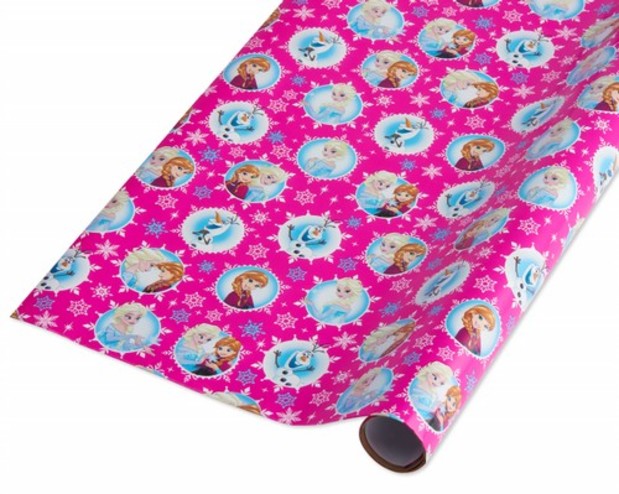 Now you get to be a Fairy Godmother!
'Tis the season for tinsel, hot cocoa, and all things merry: it's time for the holidays!
I've always loved the holiday season, and while it's always fun to wake up on that special day to find the gift you always wanted, I feel as though creating that experience for someone else gives me extra warm fuzzies.
Still, I won't lie – shopping for gifts can be hard. Especially if the people in your life are hard to read for their interests. So consider this practice, as today we're going to find the perfect gift for a few of your favorite Disney Princesses. As we analyze them to find their heart's desire, you'll feel more confident about doing so with your own loved ones!
For Belle: A Journal
You thought I was going to recommend a novel, didn't you? Well, first of all – ha! Got you!
Second, while there's no such thing as too big of a book collection, IMHO, after Belle goes on her long-awaited adventure in the "great wide somewhere," also known as Beast's castle, I have a feeling that she'd want to start writing her own story. Someday, it'll be on the equally-crowded bookshelf of another bookish dreamer.
For Tiana: A Planner
Tiana is one busy bee…well, busy frog works better. But anyway, running a restaurant, specifically one of the finest restaurants in New Orleans, is no easy task, and while Tiana is certainly up to the task, she might need a little extra organization to get her through.
A planner is just what a busy #girlboss needs, and I'm sure this practical princess would be most appreciative.
For Rapunzel: A Coloring Book
Coloring books are so hot right now – gosh, that's a weird sentence – but the artistic Rapunzel is sure to enjoy one more than most.
It's unlikely that she'll get to paint all over the castle as she did her tower, so getting to color in the blank but beautiful designs of a coloring book would be the best substitute.
For Mulan: A Yoga Mat
Any good warrior knows that balance between mind and body is the key to winning all of life's battles. And Mulan isn't just a good warrior- she's the best warrior.
Mulan would know better than anybody that the best exercise is one that can tone muscles and rejuvenate your spirit at the same time. So why wouldn't she be into yoga?
For Merida: Hiking Boots
Merida is definitely an outdoorsy kind of lass, who feels most at home exploring the Scottish Highlands.
When you're outside that much, you need a sturdy pair of shoes, and some solid hiking boots should do just the trick. Now Merida will be able to shoot arrows and ride her horse Angus in maximum comfort.
For Elsa and Anna: Chocolate
No need to buy Anna and Elsa separate gifts, as they share everything anyway! That's what sisters do.
One of the biggest interests these two snowy siblings have in common is chocolate, and wouldn't they love to have a box of bonbons or tub of truffles to themselves! They'd have a blast savoring each morsel and playfully arguing over who has to eat the disgusting cherry cordial. (Sorry, cherry cordial fans!)
What do you think?
Do you think these famous ladies would like their gifts, or exchange them for something else? What would Ariel, Pocahontas, or Jasmine put on their wish lists?
Leave a comment below and share this article with everyone you know! Thanks for reading, now let's get the holidays started!
Source: #Fashionblogger #fashiontrends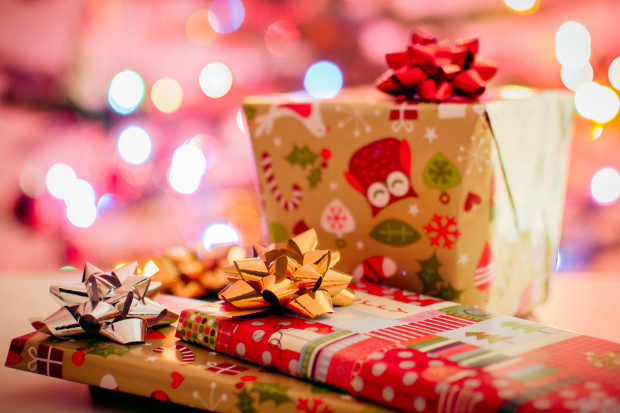 You will never have trouble shopping again.
I feel like when it comes to holiday shopping, there are only two extremes. The idea of buying your closest friends and family thoughtful, tasteful, yet reasonably priced gifts either fills you with pure glee or overwhelming dread. There's no in-between.
Well, if you're the latter type of person (or the former, but still find yourself stuck on a present or two), I'm here to share some of my most tried-and-true tricks for gift-buying!
1. (My Ultimate Secret Weapon): Combine Interests in One Gift
Pick two things your friend is CRAZY about (not just a passive interest- something that really defines them and makes them who they are) and combine the two into one item. This leads to an ultra-personalized gift that they're guaranteed to adore.
Seriously, try this yourself and thank me later! This always leads me to my best gift ideas.
2. List everything first.
Before buying anything, make a list of all of your ideas and figure out which items can be purchased from the same location. This way, you won't have to make multiple trips to the same store or pay for shipping twice!
3. Etsy is your friend and enemy.
Etsy great for extra personal gifts, but always be sure to check shipping costs, which can be pretty high.
Sometimes I like to look at Etsy for good ideas, then shop at local vintage stores and boutiques or ask my craftier friends for help replicating an item in order to save money.
4. Nothing beats handmade.
A handmade gift is as personal as you can get and usually won't break the bank. See our article on Handmade Holiday Mickey Ears for a cute, festive gift that all your friends will adore!
5. Try not to give out gift cards.
To me, a gift card says "I don't know you well enough to know what you like, so I'll just let you pick".
You may think you are doing your friend a favor by letting them pick their own present, but to me, holidays are less about the actual gift than they are about the gesture – just knowing that someone values your friendship enough to give you a token that represents it is a gift in itself.
6. Don't buy all the gifts at once!
Doing all your shopping in one day can be overwhelming and will give you anxiety when you look at your credit card bill.
My rule is usually to buy one or two presents a week about a month and a half leading up to Christmas. This way your payments get spread out and are considerably easier to deal with. (This rule doesn't apply to like, if you find a REALLY good Black Friday deal that only works that one day.)
7. Consider gifting experiences!
This works especially with parents, who (in my experience) are happy enough just to spend time with you. Plan anything from a spa day to a trip to a theme park or even something as adventurous as skydiving!
Where to Shop
Finally, here's a quick list of some of my favorite places to shop for presents!
For geeky gifts: BoxLunch Gifts, Hot Topic, ThinkGeek
For gorgeous, vintage-inspired clothes and accessories: ModCloth, Ruche, PinupGirl Clothing, Unique Vintage
For ultra-unique, personalized gifts: Etsy, Society6
What's your holiday gifting strategy?
Do you love shopping for presents, or does gift-buying give you anxiety? Do you have any tricks for being a good holiday shopper? Let me know in the comments!
Source: #Fashionblogger #fashiontrends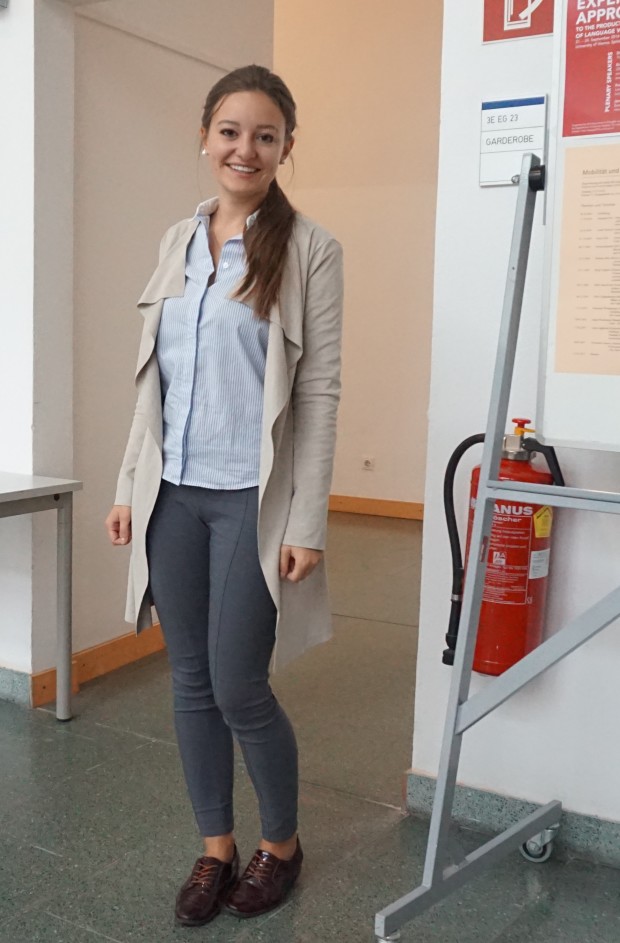 Classic campus style.
During finals week, it's common to see students on campus looking worse for the wear. Valentina is a breath of fresh air. With grace and elegance, her look is sheer professionalism. Plus, how adorable are those shoes?
Valentina 101
Name: Valentina
School: University of Vienna
Age: 20
Major: Teaching degree in English and History
Semester: 5th
Let's Talk Fashion

Who or what inspires your style?
"No one, really. I just go by whatever I feel like wearing personally. I am not really into following trends."
If you could raid anyone's closet, who would you pick? "I don't pay too much attention to what other people wear. So I wouldn't even raid anyone's closet in the first place to be honest."
How would you describe your sense of style?
"Timeless, effortless, and most importantly: comfortable."
What fashion advice would you give to other students, looking to improve their style?
"I'd say: dress however you see fit! Wear what you like. Don't pay attention to trends. They come and go all the time. Rather, look out for timeless pieces and combine those. That's what I like to do."
Why did you choose this particular outfit?
"I really love blouses in general so today I put one on as well. Like I said before, timeless pieces are a great way to go and blouses definitely fall under that category! Also, this outfit is really comfortable. Especially when going to class, I like to feel comfy."
Where did you buy the pieces you're wearing today? "Mostly Primark. Yep. The blouse, the pants, the cardigan – everything's from there!
"
Where do you like to shop? "Primark. You guessed it! It's affordable and they have such cute pieces. Also, I like checking out little Italian boutiques. They have unique and stylish things to offer as well.
"
Elements of Valentina's Outfit

1. Sophisticated Footwear

Valentina's shoes tie her outfit together, adding a smart and sophisticated touch with their slightly preppy design. These babies look like a contemporary version of the classic oxfords and were made to be worn around ye old halls of university!
2. Dainty Details

When it comes to accessorizing, Valentina likes to keep it low-key. Instead of slamming on a statement piece, she prefers to keep it understated. Her dainty pearl pendant necklace is the perfect wear-everywhere style. The pearl has always been symbolic of timelessness, class, and elegance – a style vibe that Valentina nails.
What do you think?
Are you like Valentina who likes to keep it simple and timeless when accessorizing? Or do you prefer bold statement jewelry? Let us know in the comments below!
Source: #Fashionblogger #fashiontrends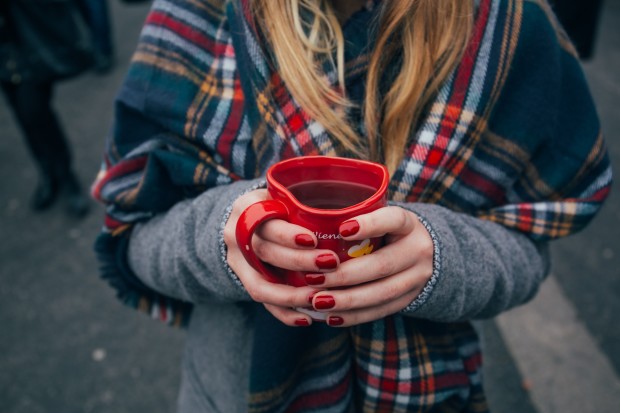 The ultimate holiday 2016 mug roundup is here.
To me, nothing says "winter" quite like sitting around when it's cold under a fluffy blanket with a nice, steamy drink in hand. Is there any better feeling?
Whether you regularly drink coffee, love hot chocolate, or you just want to add to your mug collection, today I'm here to help! Here are my favorite ten mugs that will make your favorite holiday drink even more delicious. (Bonus: They would make great gifts!)
The Campfire Mug
This stoneware mug is sturdy and looks perfectly appropriate for your next evening under the stars.
The Travel Mug
It's not a tumbler, it's not a regular mug… it is totally adorable. This gorgeous cup is great for taking on short journeys, or just showing it off around the block.
The Initial Mug
You can find this mug in all the letters of the alphabet, which is great if you want to invest in a set for your apartment or give one as a gift.
The Essential Mug
It looks simple, but this ceramic mug is exactly what I think of when someone says latte on a cold day. Plus it comes in a few colors so you can grab the whole set.
The Print Mug
This porcelain print mug is an elegant twist on classic Rudolph. Plus, I've been hearing great things about the Zara Home line, so this might just be worth checking out.
The Lid Mug
America's favorite coffee shop is apparently equally skilled at making stylish mugs… that will keep your drink cold for longer! It's hard not to love the two baby polar bears or the candy cane handle on this one.
The Tumbler
Need something bigger than the standard 12oz. mug? The "holidaze" mug has you covered – plus, you'll be able to clearly see exactly how much drink you have left. Maybe it's just me, but I always feel deceived when I hit the bottom.
The Snowman Mug
Sure, it's cheesy, but how can you not smile along?
The Pop Culture Mug
I personally haven't seen Elf (I know, I know — I plan to get around to it this winter, promise!) but my two roommates seemed to get a kick out of this.
The French Mug
I always joke about how French unnecessarily shows up on t-shirts and sweaters, but it's actually quite charming on this mug. Plus it was designed by a Parisian artist, so points for authenticity!
What do you think?
Let me know about any other mugs you think should be on this list!
Source: #Fashionblogger #fashiontrends