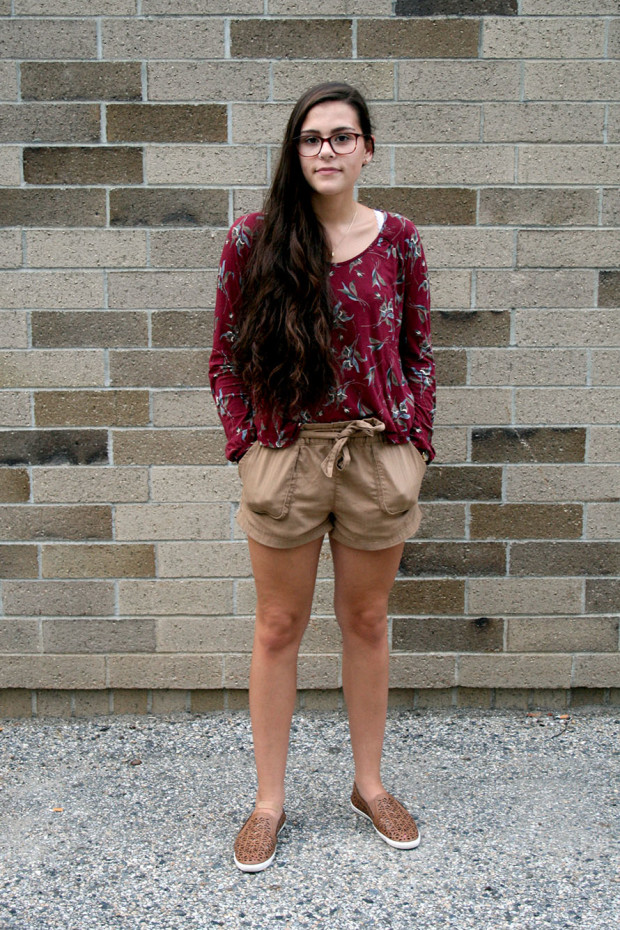 Nothing but good vibes from Brianna's earthy look.
Brianna's outfit reflects her down-to-earth personality, from its nature-inspired colors to its quirky patterns and textured fabrics. It's easy to get lost in trends, but Brianna does a lovely job at making the styles she loves her own.
Brianna 101
Name: Brianna
Year: Freshman
Major: Counseling Psychology
School: Assumption College
Let's Talk Fashion
Who or what inspires your style? "I'd say nature a lot of the time. I'm very inspired by the colors [found in nature], so my clothes have a lot of browns and dark reds. I'm not inspired by any person in particular, though."
Where do you like to shop? "I work at TJ Maxx so I shop there a lot because they have Free People for super cheap. I also love Forever 21 because is cheap and super cute. Also H&M and Urban Outfitters."
How would you describe your sense of style? "I always go for comfort. I don't really like jeans that much. I want to be [comfortable] but still look cute when I'm dressing casually."
Why did you choose this particular outfit? "I love the back of the shirt. It's very different… these shorts match! The outfit just flows really well all together."
What advice would you give for students looking to improve their style? "I would just say go with what you feel is trendy. A lot of the time [I] see people with cool outfits and I try to imitate them or put my own twist [on] things. It really helps you find your own personal style."
What are your favorite trends right now? "I love the simplicity of people's outfits right now. Boxy dresses and simple shapes are so pretty. Minimalism is really great."
Do you have any favorite fashion designers? "I wouldn't say anyone specific; I just go with what I see and like."
What do you do for fun? Do you have any hobbies or interests? "I love ceramics. Hanging out with my friends is the best thing ever, too. They always make me laugh."
If you could raid anyone's closet, who would it be and why? "I wicked like Kourtney Kardashian's clothes. She just has the cutest outfits! Her casual clothes are so earthy and crunchy, I love it."
Elements of Brianna's Outfit
1. Loafers
These have got to be the coolest loafer/sneaker hybrids I have ever seen. Not only are they cute, but they are practical for school days that involve hiking from class to class.
The intricate detail in the leather makes Brianna's loafers unique. Cool kicks like these are an excellent choice for college girls.
2. Open Back Shirt
Even though open-back tops have been around for seasons, they always catch my eye. I really like how Brianna has her Free People shirt styled with a lace bralette. It adds an extra touch of texture to her outfit.
3. Accessories
Glasses are a great way to spice up an outfit. If you need them like Brianna, you might as well get a stylish pair!
Brianna's jewelry is also fantastic. She loves to mix metals and the eclectic effect works well with her style. Finally, Brianna's rings complement the earthy tones in her outfit and the leather band of her watch flows naturally with her look.
What do you think?
Do you love letting a lace bralette show? Would you wear Brianna's laser-cut loafers? Comment below and share your thoughts with us!
Source: #Fashionblogger #fashiontrends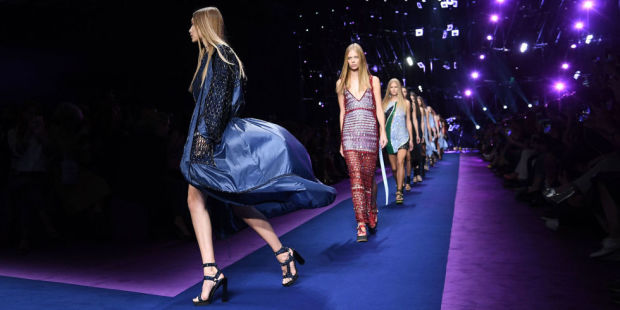 Donatella's latest collection is a love letter to sportswear – it's also easy to recreate on a budget.
Before this collection debuted, Donatella Versace wrote, "sportswear is the future of fashion; to make it unique and luxurious is the challenge I took this season."
The collection is definitely sportswear inspired – full of lycra, leggings, nylon and drawstrings. It's also very luxe, with jewel tones, patterns, formal dresses and suits blending in well with the sportier pieces.
The show also featured a huge list of the biggest names in fashion, from legends like Naomi Campbell and Adriana Lima, to newer names like Gigi and Bella Hadid. It was nice to see, as there's been a lot of debate about what makes a model "super" lately.
Since it's such a versatile collection, it lends itself well to everyday life – there's plenty of inspiration here! So, let's get started on breaking down the looks into more wearable, affordable pieces.
Look 1.
I particularly like this workwear-inspired look – it's classic yet still feels modern, thanks to updated pieces like the choker and the sleeveless duster.
Products: Sleeveless Blazer, Shoes, Leggings, Choker, Bag, Belt
Look 2.
Denim skirts in unusual cuts are going to be a huge trend, so get in on it early with this asymmetric buttoned one! Pair with a matching plain crop top and purple accessories to emulate the Versace look!
Products: Top, Skirt, Shoes, Bag, Earrings
Look 3.
Update the classic lazy day ensemble of leggings and a chambray shirt by adding a pair of heels and some drop earrings. These leggings have similar zip detailing to the originals. Finally, mimic the drawstrings on the Versace shirt with this lace-up one.
Products: Leggings, Shoes, Earrings, Shirt
What do you think?
Do you like the latest Versace collection? What's your favorite look? Let me know in the comments!
Source: #Fashionblogger #fashiontrends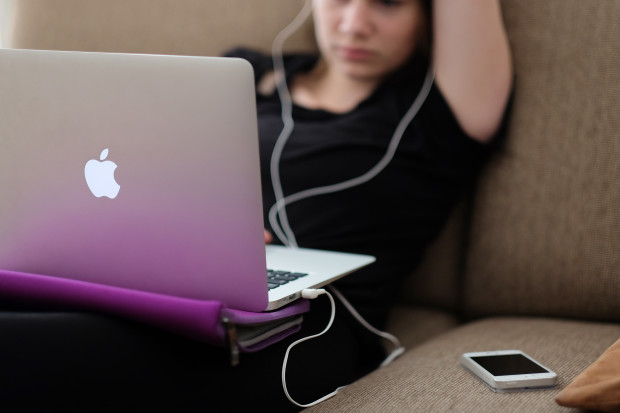 Because sometimes, coffee just isn't enough.
With the semester in full swing, we've reached the point in the year where things get stressful. Personally, I'm at that "perpetually tired" stage where I pump myself daily with caffeine Lorelai Gilmore-style, but sometimes even that doesn't help me look or feel energetic.
Fortunately, makeup companies carry tons of products that can help us look more awake, even when we're sleep deprived. When it comes down to it, these bad boys can work some serious wonders. Here are five key products I use when I want to look like I've gotten a full night's sleep.
Purple-toned Face Primer
Products: ELF Mineral Infused Face Primer in Brightening Lavender, Clinique Superprime Face Primer – Color Corrects Sallowness
Purple-toned primers are highly underrated! In this new world of color-correcting, it's extremely easy to find a primer to suit our needs, and I think more people should try purple ones.
Lavender primers do the best jobs at eliminating sallowness and dullness. This color-corrects dull areas of the face by boosting some brightness back into the complexion. If you're someone who suffers from a lack of sleep, these primers will boost your complexion and make you look more luminous and rested.
Luminous Foundation
Products: L'Oreal True Match Lumi Heathy Luminous Makeup, Benefit Hello Flawless Oxygen Wow Brightening Makeup
If you're not keen on purple primer or if it doesn't do enough correcting for you, the next step is using a luminous foundation. Companies everywhere are making skin-brightening foundations these days, so they're easy to find.
One caveat with these: I know from experience that if you have oily/combination skin, it's easy to look like you have workout sweat on your face by the end of the day. So swipe on a light layer to add subtle brightness, then add in extra coverage with some concealer. Base = done!
Fluttery Mascara
Products: Maybelline Lash Sensational Mascara | Tarte Gifted Amazonian Clay Smart Mascara
Mascara, as we all know, is a great way to wake up the eyes. It goes a long way in helping your eyes look wider and more open. For the most sleep-deprived days, go for deep black mascara that gives your lashes both length and volume.
Make sure to apply the mascara to both the top and bottom lashes, as this method will open your eyes the most. By doing this, you're framing the eyes and making them look larger than normal, a must when they're tired and squinty.
Under Eye Corrector
Products: Urban Decay Color Correcting Naked Skin Fluid (Peach and Yellow), Rimmel Match Perfection Concealer
The undereye area gets hit badly when we miss out on sleep, so be sure to target this if it's a problem area for you. Cover them with the appropriate color corrector. If your undereye circles are blue-green, go for an orange-salmon concealer, and if they're purple, try out a yellow concealer.
Here's some quick advice about color correcting I recently received from a Bobbi Brown employee at Sephora:
The reason these correctors sometimes don't work is because most people actually buy the wrong corrector shade! She said, "You know you have the right shade if the color completely blends into your skin. You should be able to put on a corrector and walk right out the door without concealer." Those words really changed my outlook on color correctors.
Tinted Lip Balm
Products: Pixi By Petra Shea Butter Lip Balm (Pixi Pink), Burt's Bees Tinted Lip Balm (Zinnia)
Lip balm is love. Lip balm is life. This stuff is seriously amazing. I would honestly pick lip balm, particularly my peppermint one, over any of the other makeup I own. But I digress. Back to the topic at hand!
You don't need a super expensive lip balm, just one with a hint of color. Whenever people apply makeup to look more awake, they often forget about the lips. This is a big mistake! That subtle color goes a surprisingly long way in helping you look and feel more put-together.
Thoughts?
What are some of your makeup tips for looking more awake? Let us know below!
Source: #Fashionblogger #fashiontrends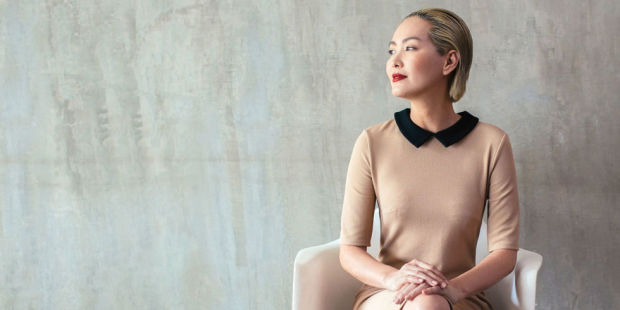 Elevate your work wardrobe with modern updates that won't leave you feeling #basic.
If you work full time in an office, you spend a lot of time in your work clothes. Let me tell you, friends – it is so, so easy to get into an office fashion rut. Having a go-to "uniform" is great, but you can only reach for for the same button-ups, pencil skirts, and ballet flats so many times before you want to burn your entire closet to the ground.
Before you get to the point of arson, may I suggest rethinking your basics. Rather than just plunking your hard-earned cash this fall on some uber trendy items, try investing in a couple of what I like to think of as the "new basics" – the modern, somewhat-trendy-but-classic-enough pieces that will breathe new life into your work wardrobe.
Pointy Toed Flats
Products: Lipstick, earrings, blouse, pants, blazer, flats, bag, bangle
Move over, ballet flats and strappy heels – the pointy toed flat is where it's at. While chunky, menswear-inspired footwear ruled the runways in the fall, the pointy toe silhouette was also spotted everywhere, from flats to heels. I love pointy-toed flats because the silhouette is elongating and elegant, and acts as the perfect canvas for bright suedes and animal patterns, making it the perfect addition to any work wardrobe.
A pair of cobalt blue pointy toed flats brings a bright pop of color to a trendy but neutral outfit of a button-up, printed pants, and a textured blazer. Modern silver jewelry, like some edgy geometric earrings and a mesh bangle, brings a bit of glitz while still keeping to the neutral palette. A lilac bag adds another complementary pop of color. Finish the look with a coat of mauve-y pink lipstick.
Tie-Front Blouse
Products: Blouse, lipstick, eyeliner, bag, loafers, skirt, phone case, earrings, ring
Your silky button-ups are definitely the MVPs of your work wardrobe; give them a vacation by switching them out for a couple of ultra-femme tie-front blouses. White is a clear color choice here, but I also love this look in neutrals like cream, peach, nude, and rose.
Pair one of these blouses with your most masculine, clean-lined pieces for a balanced look, or play up the girliness with floaty pieces and sweet colors.
For a trendy but polished work look, try pairing a white tie-front blouse with a metallic silver midi skirt, some wine-colored loafers, and a sky blue work bag. Rose gold accessories with silver touches, like a geometric phone case, a minimalist ring, and rose quartz earrings, give this look a modern feel, while a wine-colored lip and liquid eyeliner add a touch of vampiness that's still appropriate for a Monday morning meeting.
Long Vest
Products: Vest, turtleneck, watch, loafers, bag, trousers
Don't get me wrong – I'm not telling you to trash your beloved blazers, but the long and layered look is very in right now, and it doesn't seem to be going away. A long vest is the easiest way to get that look – throw over a basic pants + blouse combo, and voila! You're a futuristic work warrior.
For a work look that's perfect for fall, pair a crisp white linen longline vest with your trusty sleeveless turtleneck blouse from the summer. For an autumnal edge, add a slimming pant in a terra-cotta orange reminiscent of Potter's Clay, one of Pantone's colors for Fall 2016. A chunky gold watch adds a bit of masculine glam, while neutral accessories like nude loafers and a patchwork bag, add a bit of polish.
What do you think?
What basics do you turn to for work? Do you agree with this list? Would you wear any of these looks? Let me know in the comments below!
Source: #Fashionblogger #fashiontrends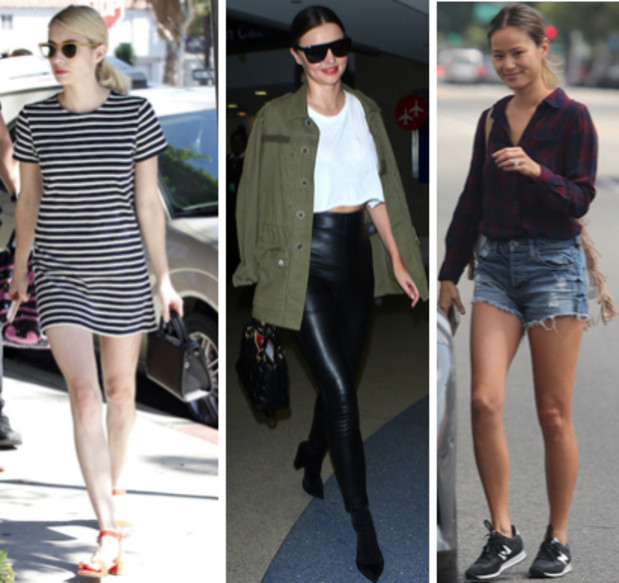 Get Emma Roberts's classic cute, Miranda Kerr's edgy chic, and Jamie Chung's laid-back look.
Every week, I scour the web to find inspiring outfits on your favorite celebs and help you recreate their looks! This week, I was inspired by Emma Roberts, Miranda Kerr, and Jamie Chung. Read on to see how you can get their looks for yourself.
Look 1: Emma Roberts's Classic Cute
Scream Queens star Emma Roberts looked cute in a classic ensemble while out in West Hollywood this past week. Emma wore a black and white striped shift dress with red block heel sandals, a small top-handle bag, and neutral colored cat-eye sunglasses.
Whether you're having a casual day or attending a slightly dressy occasion, Emma's ensemble works for either situation and can go from day to night, as well.
Outfit Inspired by Emma
Products: Dress, Sunglasses, Bag, Sandals
You may already have a black and white striped shift dress or t-shirt dress in your closet. If not, I recommend investing in one. This t-shirt style shift dress is super versatile, easy to throw on, and will never go out of style.
For Emma's ensemble, wear the dress with neutral colored cat-eye sunglasses and red sandals that feature an ankle strap and a short block heel. These sandals give the outfit just the right amount of polish for day or nighttime wear. Complete the look with a structured black handbag with a top handle.
Look 2: Miranda Kerr's Edgy Chic
Supermodel Miranda Kerr is the queen of super stylish airport looks, and she was dressed to impress this week while spotted at LAX. Miranda rocked high-waisted leather pants, a cropped white t-shirt, and an olive green utility jacket. She accessorized with trendy flat-top sunglasses and a structured black handbag, and wore black ankle boots.
While Miranda dressed up for her travels, her look would also would be killer for a night on the town.
Outfit Inspired by Miranda
Products: Top, Pants, Jacket, Sunglasses, Bag, Booties
Now that fall is here, heavier materials like leather or faux leather are no-brainer additions to your wardrobe. Tone down these bold, faux-leather trousers with a plain white t-shirt and an olive green utility jacket.
Now for the extras. Add in edgy accessories like flat-top sunglasses and pointy-toe black ankle boots. The combination of the pants and the booties in the same hue will elongate your legs, creating an uninterrupted visual line. For a final touch, carry a structured black faux-leather bag.
Look 3: Jamie Chung's Laid-Back Look
Actress Jamie Chung was spotted this week in a practical yet cute look perfect for the fall transition.
Fall is the time for plaid shirts, and Jamie paired hers with some denim cutoffs. She kept her ensemble functional by adding black sneakers, and she carried a tote bag with fringe detailing for a trendy touch.
Jamie's look is great for a day of running errands, going to classes, or catching up with friends, as it balances functionality with fashion.
Outfit Inspired by Jamie
Products: Shirt, Shorts, Bag, Sneakers
If you aren't ready to give up your denim shorts yet, consider wearing them with a long-sleeve plaid shirt tucked in for a cute, seasonal look. Of course, if it's gotten too cold already where you live, skinny jeans or boyfriend jeans would work with this look, too.
Take a cue from Jamie and keep the look functional by wearing casual sneakers and by carrying a tote bag great for fitting all of your books, notebooks, etc. Opt for a tote bag with fringe detailing for an extra hint of trendiness.
What do you think?
Which outfit would you be most likely to wear? What other celebs would you like to see featured? Leave a comment and let us know!
Source: #Fashionblogger #fashiontrends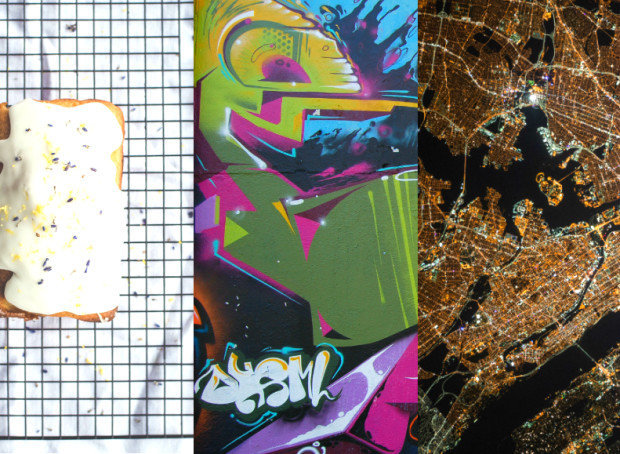 As Coco Chanel once said, fashion is in the sky and in those free, helpful photo-sharing websites.
Today, I thought I would pay homage to an under-acknowledged member of the CF article-writing process: Unsplash.
For those of you who don't know, Unsplash is a website that offers thousands of crisp, high-resolution photos at zero cost and with zero hidden catches. In the past, it's helped me find many a beautiful cover image for my CF posts, and, now, it'll help you with some handy-dandy fashion inspiration.
They say a picture is worth a thousand words, so stay tuned for a whole lot of learning with the three following picture-inspired fashion sets!
1. Pastry
3 words I would use to describe this picture: Sweet. Mellow. Girly.
Products: Dress, Shoes, Earrings, Head Scarf, Cardigan
Interpretation: Almost at once, I thought of a 1950s housewife: This photo inspires a look that's very Modcloth-cute, optimistically colorful, and full of quirky patterns!
Bold is the way to go when following this picture inspiration. Layer a brightly-colored cardigan over a patterned dress to look as alluring and sweet as a freshly-baked pastry. Then, stand out with daring red shoes and a floral head scarf. All that's left to do? Put on some sparkly earrings and call it a (fashionable) day!
2. Graffiti
3 words I would use to describe this picture: Edgy. Cool. Trendy.
Products: Shoes, Shirt, Bag, Jeans, Cuff Bracelet, Scarf
Interpretation: A picture as fashion-forward as this deserves a typical "street style" look, with ripped jeans and effortlessly cool accessories galore.
Go to your local thrift store – or, if you must, Urban Outfitters – for this outfit. Start off by picking out a distressed pair of jeans and a thinly-layered long shirt; then, add on a cuff bracelet and black sneakers for definite street cred. Finally, make the outfit stylishly edgy with a dark shoulder bag and two-toned grey neck scarf. Don't forget to do the iconic wall pose shot for prime cool cat status!
3. Urban Landscape
3 words I would use to describe this picture: Striking. Glitzy. Classy.
Products: Lipstick, Dress, Pantyhose, Necklace, Clutch, Pump
Interpretation: The two main colors of this photograph (black and gold) are striking and best represented through an elegant date-night outfit.
An LBD is the epitome of sophistication, so slide one on and add accessories. Pantyhose, red lipstick, and black pumps are more fashion essentials you'll need for the classiest of outfits. Now, be sure to invest in a simple gold necklace and clutch and you'll be golden for a fun night out on the town!
Questions?
Did you like any of the sets? Which one was your favorite? Would you be interested in seeing more picture-inspired fashion posts in the future? CF would love to hear your take!
Source: #Fashionblogger #fashiontrends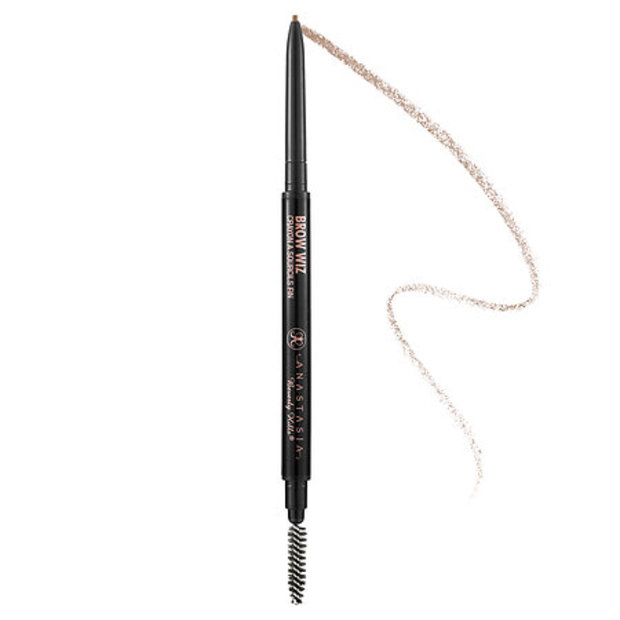 Join me for another month of favorites, and take a look at what's on my wishlist!
Hey everyone! How has school been going? Has it been going really slow or flying by for you guys? I'm excited to be back here at school, but that means more pimples, stress, and under eye bags. Eeeeeeek!
Another thing. Why is hot weather in September even a thing? September is a time when the leaves fall and the crisp air hits you when you walk out the door. It was 90 degrees here today. Maybe fall will come to the good ol' town of Maryville, Missouri in the next month…
Until then, check out my monthly favorites and wishlist for September:
Favorites
1. Anastasia Beverly Hills Brow Wiz
I know. It's quite tragic that I have zero eyebrows. Well, I actually do have brows, but my hair is so blonde that no one can see them when I'm bare faced. I tried a couple things to make my eyebrows pop, but nothing worked until trying the Brow Wiz from Anastasia.
For a while, I went to Beauty Brands to get my eyebrows waxed and tinted, but there were a couple downsides to that. First, it only lasted three weeks. Second, I would walk out of Beauty Brands every three weeks with $35 less in my bank account. And third, my small town doesn't have a Beauty Brands, so I would have to go home, which is two hours away. Talk about not worth it.
Next, I tried using the Anastasia brow powder. And while that worked at the time, it is nothing compared to this pencil. The powder would come off very easily, and not fill in everything completely. There would be little gaps in my brows!
Needless to say, my brows were not on "fleek" until I bought this little number. It's smudge proof, fills in all those little gaps (from over plucking), and gives you a natural look. Definitely recommend this product.
2. Wax Melt
I purchased a wax melt similar to this one at Wal-Mart just before school started. I like it more compared to the standard candle.
The scent with a wax melt goes further throughout the room much more quickly than a candle would. I live in a fairly big house with my roommates, and the scent even runs down the hallway and stairs from my room.
Also, I don't have to use a lighter, which is a plus. Fire scares me. I am not the one you see lighting fireworks, or in this case, candles.
3. Popkey App
If you thought you spend a lot of your time on apps like Pintrest and Tumblr, then that will seem like nothing after you download and obsess over Popkey.
We're in the age of GIFs (soundless video clips, for the unaware). This app is perfect for those of you who use GIFs as a way to share your feelings.
After all, what better way to show you're excited than to use a GIF of Buddy in the movie Elf jumping around? And what better way to show you're annoyed than to use a GIF of Nicki Minaj rolling her eyes? The possibilities are truly endless.
This app is a giant GIF library. You can look through different categories of GIFs, or type keywords in the search bar. When you find a GIF you like, all you have to do is copy and paste where you would like the GIF to go. Personally, I use them mostly in my messages. And you can even download a GIF keyboard to save your favorite ones.
Let's all get pumped about GIFs…
4. TV Show: Game of Thrones
Game of Thrones brings out my inner nerd. For the past year, all I've been hearing about is GoT. So, naturally, I decided to give it a try. And I'm hooked.
I'm only halfway through season one right now, but enjoying every minute of it! At first, it's a little confusing with all of the different family names and kingdoms, but once I got the hang of it, I didn't want to stop watching. There's a lot of history to the show, so this is definitely one of those shows you can't do homework and simultaneously watch.
In short, Game of Thrones is about two powerful families going head-to-head in order to overtake the whole kingdom. While the show follows these two families closely, it also follows the other families who are trying to regain their independence. If you like sci-fi, fantasy, magic, dragons, and good-looking guys, then this show is for you. If you haven't already, you need to start watching!
5. Song: "Blue Sky" by Cazzette
Cazzette is fairly new to the music scene. The duo of Alexander Bjorklund and Sebastian Furrer coined the term 'dubhouse' with their upbeat, light, and energetic music. If you want a tune to get ready or to pump you up, then take a listen to this. I'm constantly playing it on repeat!
Wishlist
1. Black Leather Skirt
I've tried to pinpoint my style so many times, but it's so hard to do. I consider my style eclectic—a little bit of everything. I like to be on the lookout each season for new pieces to build my wardrobe, and this fall, I really want a black leather skirt.
Now, I'm usually not a skirt girl, but the outfits I've seen created with one are so cute! And I feel as though this piece can be brought into other seasons as well; in the winter with tights or in the summer for a concert.
2. Plaid Blanket Scarf
Because what better way to get into the fall spirit than with cozy sweaters and big scarves? I like this one from Effin Shop (absolute fave online store for everything).
The plaid scarf is to winter and fall as floppy hats are to summer. I love plaid scarves because most of them have many colors and a neutral tone, so they can be matched with virtually anything.
In other words, I need this.
3. Plum Lipstick
I'm a huge fan of making my lips pop as a part of my makeup routine. You'll see me wearing bright reds and hot pinks more often than not!
But as of right now, my makeup bag is only filled with summer colors. A plum lipstick looks great on everyone and brings out the face's natural 'flushed' look.
Plus, I'm super pale and get called a vampire all the time by my friends, so might as well get some berry/wine/plum lipstick to complete my look…
4. beautyblender
I've heard so many great things about the beautyblender. Since I use liquid foundation, I think this would be such a good investment.
I have a foundation brush right now, but it often leaves my foundation all streaky. So then I have to spend extra time trying to fix all of the streaks. We've all been there, and know that it's not a fun time.
What do you love this month, and what do you want for next month?
Anything you want to buy for the fall season? Anything you recommend? Let us know in the comments below!
Source: #Fashionblogger #fashiontrends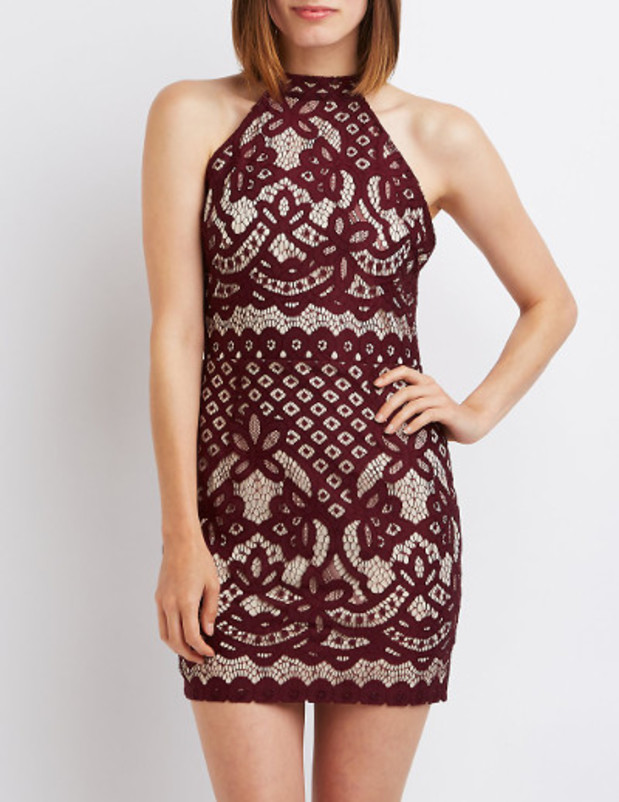 Test-drive some trends with this statement Find!
This week's Fabulous Find incorporates two big fall trends: burgundy hues and lace detailing. This dress from Charlotte Russe features both, plus a stylish open back and bodycon fit.
The dress comes in sizes from XS to XL, and best of all, it's currently on sale for just over $21! Hard to beat, right?
The Dress
Lace Open Back Bodycon Dress in Burgundy – $21.44 at Charlotte Russe
Outfit Inspiration
Though this dress is a statement piece, you can easily switch it up with different accessories. Here are a few ideas:
Outfit #1
Products: Dress, Heels, Earrings, Nail Polish, Clutch
For a feminine, romantic look, trying pairing this dress with dusty rose-hued suede pumps. Jeweled earrings and a gold clutch give the outfit some sparkly glam. Contrast the warm fall colors with a cool, green-gray nail polish for an unexpected yet stylish touch.
Outfit #2
Products: Dress, Jacket, Clutch, Shoes
This outfit is all about the fall trends. Offset the lace of the dress with a chic suede moto jacket, and for another trendy touch, slip on sky-high peep-toe booties. A pale pink clutch is a pretty yet subtle accessory to finish the look.
Outfit #3
Products: Dress, Coat, Flats, Lipstick
Burgundy and pink are a hot color combo this fall, so try incorporating both hues into this ensemble. A pink coat gives the dress some added polish and sophistication. Not feeling the heels? Try a pair of comfy d'orsay flats instead. Complete the outfit with a dark red lipstick, which is perfect for the season.
Thoughts?
Would you wear this dress? How would you style it? What's your favorite fall trend? Let us know in the comments!
Source: #Fashionblogger #fashiontrends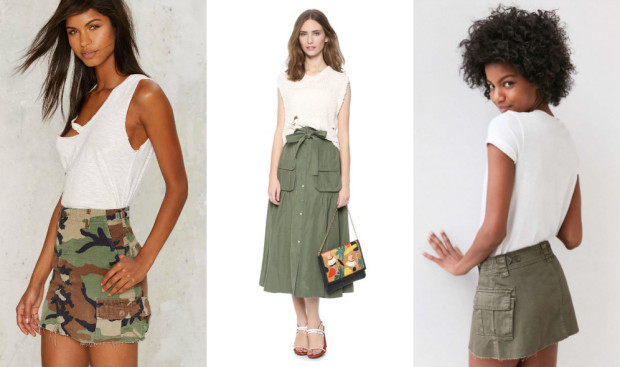 Cargo pants' much more stylish younger sister.
Chances are, most of us swore off cargo pants a long time ago. But now it's time to reintroduce those large, foldover pockets back into our lives. Rest assured, we are not suggesting wearing those heavy, baggy pants again… cargo skirts are officially "in."
Much easier to wear than the generation before, surprisingly — we are into this trend! Dolled up with a cute blouse or dressed down with flat booties, we think we can find plenty of ways to weave cargo skirts into our wardrobes.
Are you into this trend?
Or does it not fit your fancy? How would you wear a cargo skirt? Let us know in the comments!
Source: #Fashionblogger #fashiontrends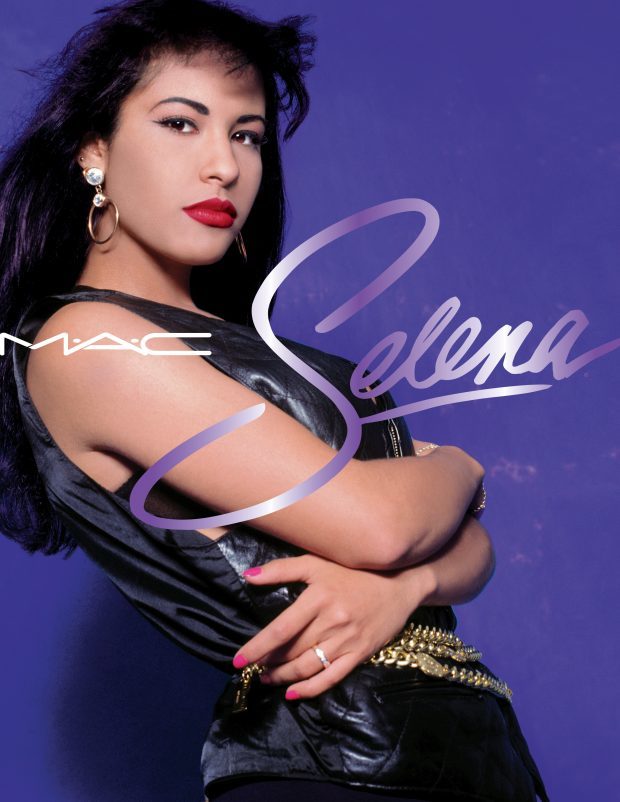 Take a look at all the products before they hit stores.
More than a year ago, we told you that MAC Cosmetics would be creating a collection inspired by Tejano music icon Selena Quintanilla, and that collab is finally about to hit stores.
The collection includes everything from lipstick and eye shadow to mascara and liquid liner, all priced between $17 and $35.
MAC Select Obsessed and Devoted members will be able to pre-shop MAC x Selena starting on September 28. For everyone else, the collection rolls out online October 1 and in stores October 6.
Though it's slated to be available through November 17, we have a feeling it's going to sell out quickly, so remember to shop early for the best selection.
Check out the full collection (save for the online-only bubblegum pink lipglass "Bidi Bidi Bom Bom") in the slideshow below:
What do you think?
Are you a Selena fan? Do you think you'll buy anything from this collection? What do you think of the makeup? Tell us your thoughts by leaving a comment below.
Source: #Fashionblogger #fashiontrends